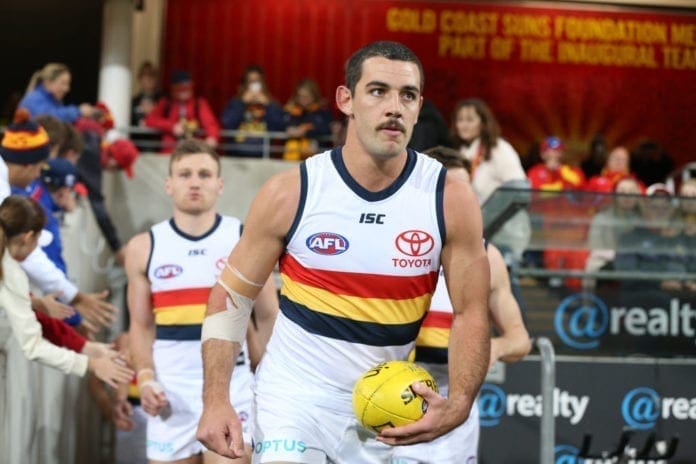 Adelaide veteran Taylor Walker has fronted the media for the first time since receiving a six-week suspension for a racial slur against SANFL player Robbie Young.
The former Adelaide skipper took the opportunity to apologise again for his actions and said he was 'ashamed' of the hurt he had caused.
The 31-year-old made the remarks at a quarter-time huddle while spectating an Adelaide reserves game.
Today, Walker revealed why he initially denied using the racial slur.
"When I first was pushed on this, I was in denial. I panicked, and I was scared, and I thought about myself," Walker told reporters.
"I let time go and I said to myself this is not about me, it's about Robbie and the Adelaide official and the pain I caused to them, and that's when I said I'm coming forward to own this. And I want to get better for it."
Walker was asked about how the incident has affected his relationships with indigenous players like Eddie Betts.
"That's the thing that hurts me the most," he said.
"I've got great relationships with some Indigenous people and have apologised, and for me now, I'm to be judged on what I do from here on in.
"At the moment, playing is not my priority. Repairing relationships with the people I've hurt is my main priority."
The 31-year-old was emotional when asked about his families reaction.
"That has been the hardest thing, how I have let my family down... I have got some work to do with my family as well," he said.
"I am just ashamed at what I said has just caused so much pain."
Walker also confirmed that his four indigenous teammates had accepted personal apologies.
"They were really open and honest with me," Walker said.
"And I'm thankful for that because that is going to help me going forward and understand the pain and hurt I have caused them and their communities.
"It's now up to me to repair that relationship and reconcile and get some more education for myself because clearly I am not at the level."
Adelaide are yet give Taylor Walker an answer over whether he will be invited to the club's best-and-fairest function this weekend.