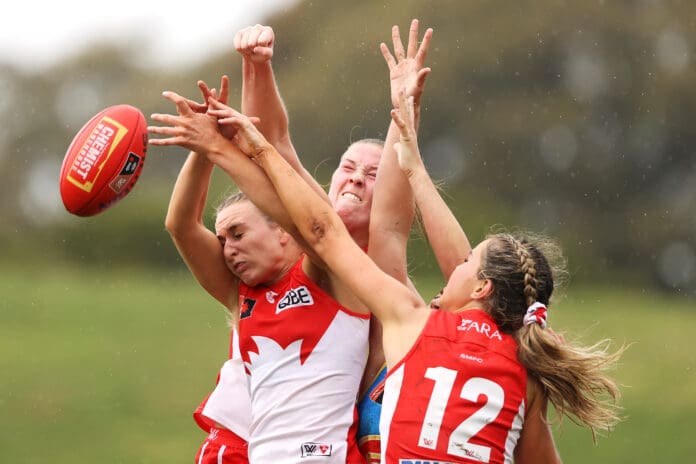 Sydney have revealed that co-captain Maddy Collier has suffered an ACL injury, confirming that the 27-year-old will miss the 2023 AFLW season.
Collier ruptured her ACL at training, now expected to undergo surgery in the coming weeks and begin her rehabilitation for the 2024 season.
Speaking in a club statement, Sydney's Executive General Manager of AFLW, Kate Mahony, said Collier's injury was a massive loss for the team.
"We are all really feeling for Maddy. Ever since she has arrived at the club, she has been such a valuable asset to our playing group and to have her miss the entire 2023 season is a really big loss," Mahony said.
"What is more disappointing is knowing that Maddy had followed our injury risk reduction programs diligently. It was just an unfortunate incident to have occurred.
"We will do everything possible to ensure Maddy is supported during her rehabilitation and can return to playing as soon as possible."
Collier has played 39 AFLW games, five for the Swans after previous stints at GWS and West Coast. The 27-year-old, who was an inaugural part of Sydney's leadership group in season 7, expressed her disappointment that she couldn't be on the field in the Swans' second season.
"It's obviously incredibly disappointing but unfortunately it's now one of those things I can't control," Collier said.
"I can't thank the entire club enough for how supportive they have been. I know I have a long road to recovery, but I know I am in the best place possible to come back bigger and better.
"While I won't be representing the red and white on the field, I'll be doing everything possible to support the playing group and help them have the best season possible."