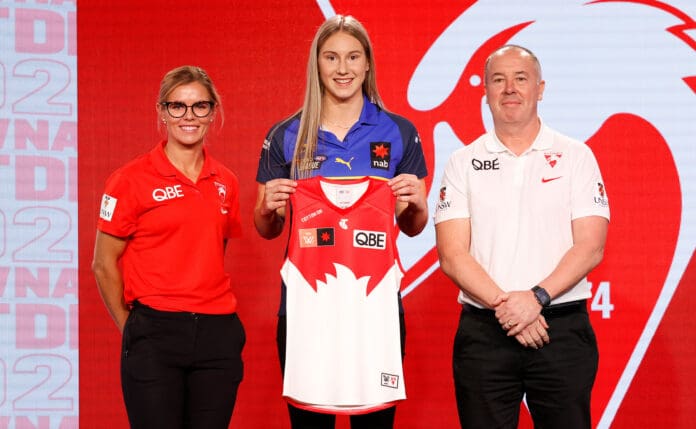 Western Jets midfielder Montana Ham was plucked with the first overall selection in the 2022 AFLW National Draft, landing the first spot in the class of New South Wales-eligible prospects and joining Sydney.
The Keilor product was joined by fellow Victorian Sofia Hurley in venturing north of the border to join the Swans after nominating to be recruited from NSW clubs.
Hawthorn collected Jasmine Fleming with their first selection at Pick 2 overall, the opening pick among Victorian clubs, before Hannah Ewings followed in joining Port Adelaide as a South Australian selection.
Essendon's first selection in the draft came at fourth overall and second for Victorian clubs,  adding Amber Clarke from the Dandenong Stingrays before the Swans rounded out the top five selections in recruiting Hurley from Sandringham.
The 2022 AFLW Draft concluded after 9 rounds and 86 selections, heavily influenced by the four new expansion clubs.
Round 1
| | | | | |
| --- | --- | --- | --- | --- |
| Selection | Club | Player | State League Club | Community Club |
| 1 | Sydney Swans | Montana Ham | Western Jets | Keilor |
| 2 | Hawthorn | Jasmine Fleming | Oakleigh Chargers | Ashburton |
| 3 | Port Adelaide | Hannah Ewings | SMOSH West Lakes | Roopena |
| 4 | Essendon | Amber Clarke | Dandenong Stingrays | |
| 5 | Sydney Swans | Sofia Hurley | Sandringham Dragons | |
| 6 | Hawthorn | Mackenzie Eardley | Dandenong Stingrays | Beleura |
| 7 | Port Adelaide | Sarah Goodwin | Glenelg | Goodwood Saints |
| 8 | Essendon | Paige Scott | GWV Rebels | Eaglehawk |
| 9 | Hawthorn | Charlotte Baskaran | Western Jets | Aberfeldie |
| 10 | Hawthorn | Bridie Hipwell | Sandringham Dragons | |
| 11 | Sydney Swans | Cynthia Hamilton | Queanbeyan | Belconnen |
| 12 | Sydney Swans | Montana Beruldsen | Hawthorn | Mildura |
| 13 | Sydney Swans | Alice Mitchell | Gunnedah & District Bulldogs | Mosman Swans |
| 14 | West Coast Eagles | Ella Roberts | Peel Thunder | |
| 15 | West Coast Eagles | Lauren Wakfer | South Fremantle | Warnbro Swans |
| 16 | St Kilda | J'Noemi Anderson | Northern Territory Thunder | St Marys |
| 17 | Carlton | Keeley Skeeper | Murray Bushrangers | |
| 18 | Carlton | Mia Austin | Eastern Ranges | Montrose |
| 19 | Gold Coast SUNS | Alana Gee | Southport | |
| 20 | GWS Giants | Zarlie Goldsworthy | Murray Bushrangers | |
| 21 | Western Bulldogs | Rylie Wilcox | Northern Knights | Fitzroy |
| 22 | Hawthorn | Lucy Wales | Casey Demons | Oakleigh |
| 23 | Port Adelaide | Sachi Syme | Norwood | Norwood |
| 24 | West Coast Eagles | Abbygail Bushby | Swan Districts | High Wycombe |
| 25 | Hawthorn | Emily Everist | Bendigo Pioneers | |
| 26 | Hawthorn | Laura Elliott | Western Jets | |
| 27 | Fremantle | Madeleine Scanlon | Claremont | West Coast |
| 28 | North Melbourne | Taylah Gatt | Dandenong Stingrays | Beleura |
| 29 | Western Bulldogs | Keely Coyne | Sandringham Dragons | |
| 30 | Collingwood | Charlotte Taylor | Oakleigh Chargers | Beverley Hills |
| 31 | Port Adelaide | Ella Boag | Glenelg | Henley |
| 32 | Essendon | Stephanie Wales | Casey Demons | Oakleigh |
| 33 | Geelong Cats | Mia Skinner | Geelong Cats | Torquay |
| 34 | Gold Coast SUNS | Claire Ransom | Tasmania Devils | North Hobart |
| 35 | Essendon | Mia Busch | Eastern Ranges | Blackburn |
| 36 | West Coast Eagles | Zoe Wakfer | South Fremantle | Warnbro Swans |
Round 2
| | | | | |
| --- | --- | --- | --- | --- |
| 37 | Western Bulldogs | Heidi Woodley | Calder Cannons | Kilmore |
| 38 | Richmond | Charley Ryan | Dandenong Stingrays | Beleura |
| 39 | North Melbourne | Sophia McCarthy | Williamstown | Alpine Lions |
| 40 | Adelaide | Keeley Kustermann | West Adelaide | Goodwood Saints |
| 41 | Brisbane | Ella Smith | Aspley Hornets | Sandgate |
| 42 | Geelong Cats | Brooke Plummer | Northern Knights | Yarrambat |
| 43 | West Coast Eagles | Emily Elkington | Claremont | Claremont |
| 44 | Melbourne | Maeve Chaplin | Casey Demons | |
| 45 | Port Adelaide | Yasmin Duursma | Gippsland Power | Foster |
| 46 | Essendon | Mia Van Dyke | Geelong Falcons | St Joseph's |
| 47 | West Coast Eagles | Jaide Britton | Peel Thunder | |
| 48 | Carlton | Lily Goss | Carlton | Old Scotch |
Round 3
| | | | | |
| --- | --- | --- | --- | --- |
| 49 | Melbourne | Samantha Johnson | Casey Demons | Beaconsfield |
| 50 | North Melbourne | Charli Granville | Hawthorn | Montrose |
| 51 | North Melbourne | Grace Matser | Bass Coast | Korumburra-Bena |
| 52 | Gold Coast SUNS | Jasmyn Smith | Bond University | Broadbeach |
| 53 | West Coast Eagles | Mikayla Western | Claremont | |
| 54 | North Melbourne | Cassidy Mailer | Murray Bushrangers | |
| 55 | Geelong Cats | Abbey McDonald | Calder Cannons | |
| 56 | Collingwood | Charlotte Blair | Dandenong Stingrays | Devon Meadows |
| 57 | Brisbane Lions | Dee Heslop | Gold Coast Suns | Southport |
| 58 | Richmond | Eilish Sheerin | Inner West Magpies | |
| 59 | Fremantle | Tara Stribley | Swan Districts | Bassendean |
| 60 | Richmond | Katelyn Cox | Hawthorn | |
| 61 | Port Adelaide | Amelie Borg | North Adelaide | Golden Grove |
| 62 | Essendon | Amelia Radford | Essendon | Moonee Valley |
Round 4
63
St Kilda
Hannah Stuart
Southern Saints
Old Mentonians
64
GWS Giants
Fleur Davies
Southport
Southport
65
Gold Coast SUNS
Pass
66
GWS Giants
Meghan Gaffney
Tasmania Devils
Ulverstone
67
Carlton
Jessica Jones
North Melbourne
West Brunswick
68
Western Bulldogs
Brooke Vernon
Carlton
Rye
69
Adelaide
Kiera Mueller
Sturt
Blackwood
70
Brisbane Lions
Charlotte Mullins
Aspley Hornets
Aspley
71
Adelaide
McKenzie Dowrick
Eagles
Mines Rovers
72
Melbourne
Georgia Gall
Euroa
73
Essendon
Ashleigh Van Loon
Geelong Falcons
St Mary's
Round 5
74
St Kilda
Deanna Jolliffe
Southern Saints
Tyabb
75
GWS Giants
Madison Brazendale
Tasmania Devils
Launceston
76
Collingwood
Pass
77
Fremantle
Megan Kauffman
Wembley
78
Brisbane Lions
Kiara Hillier
Maroochydore
Kawana Park
79
Melbourne
Pass
80
Port Adelaide
Lily Johnson
West Adelaide
Devonport
Round 6
| | | | | |
| --- | --- | --- | --- | --- |
| 81 | St Kilda | Caitlin Matthews | Oakleigh Chargers | Camberwell |
| 82 | GWS Giants | Jodie Hicks | Macquarie University | Hay |
| 83 | Fremantle | Amy Mullholand | Subiaco | Wembley |
Round 7
| | | | | |
| --- | --- | --- | --- | --- |
| 84 | GWS Giants | Cambridge McCormick | Eastlake Demons | Kawana Park |
| 85 | Fremantle | Tahlia Read | Calder Cannons | Maribyrnong Park |
Round 8 
| | | | | |
| --- | --- | --- | --- | --- |
| 86 | GWS Giants | Tess Cattle | Ainslie | Ainslie |
Round 9