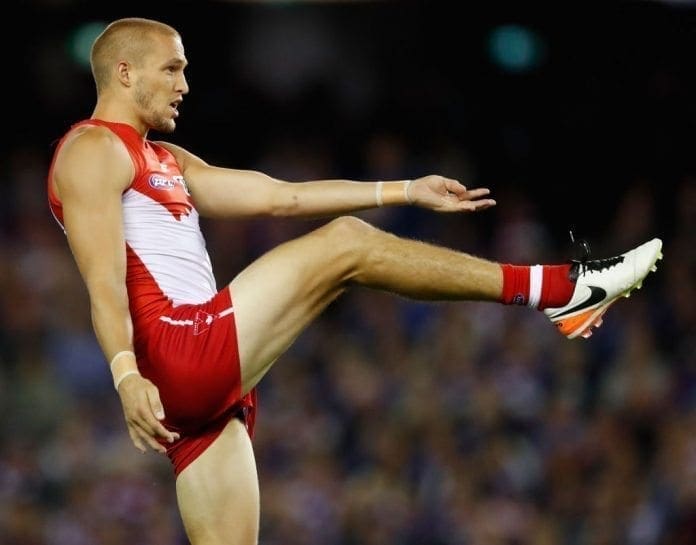 Swans forward Sam Reid has suffered an injury setback after undergoing knee surgery during the AFL's shutdown period.
The 28-year old didn't miss a game last year, but sat out the Swans' round one clash with what was believed to be a calf issue. However, it appears there's a bit more to his injury than first thought.
Reid had a host of soft tissue problems during the pre season, but suffered a new knee issue before the season that has required surgery.
"Sam had an interrupted pre-season with some soft-tissue injuries but was back in competitive training prior to round one," Swans football boss Charlie Gardiner told AFL.com.au.
"He developed some soreness in his knee training in the lead-up to round one and he actually had a scan which showed he had damage to his meniscus.
"He had an arthroscope in late March just to clean that up. It was a fairly straightforward clean up."
Reid has suffered and dealt with numerous injuries over the course of his career that have put a major dampen on Reid's ability to always perform at 100 per cent, but the Swans are adamant that Reid will be able to return to the club's training session by the end of April.
The Swans will be in no rush to bring Reid back in the midst of the season being suspended due to the coronavirus.
"We don't think he'll miss too much training and he should be back training by the end of the month then we'll just progress him. He's had a bit of a setback but the benefit is we've got a little bit of time to get him up and going," Gardiner said.
Furthermore, young Swan Joel Amartey re-injured his hamstring two weeks ago and will miss some training as the club takes a cautious approach moving forward.
"He did a hamstring a couple of weeks ago and he's suffered a hamstring injury in the pre-season as well so it's one we've got to be cautious about. He'll miss a bit of training time. Otherwise we're reasonably healthy," Gardiner said.