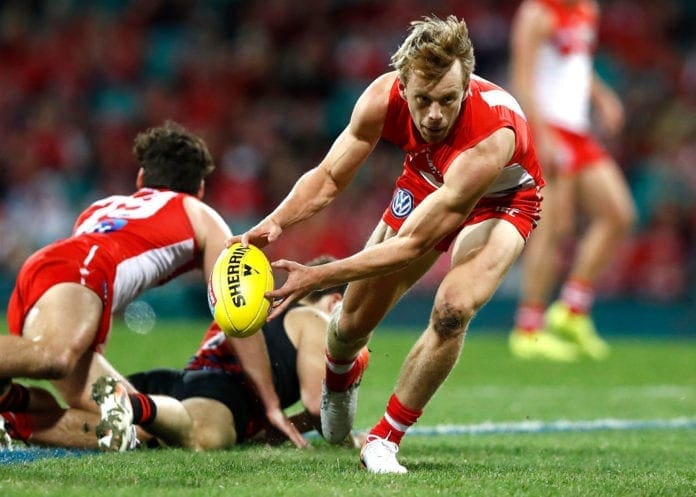 Sydney have provided a pre-season update on a number of key players who are on the road to recovery in the lead-up to the 2022 season.
Callum Mills, Sam Naismith, Nick Blakey and Will Hayward are currently sitting out full training as the quartet look to return from injury.
Head of Physiotherapy and Medical Services Damian Raper updated fans via the club's website on the condition of the players.
Blakey is unlikely to join the main group before the new year with his program building slowly.
Raper said that at this stage Blakey was just focussing on his running and not football-based work.
"Nick Blakey is going well," Raper said.
"He is four weeks into a running program and at the moment he is building some volume and speed into his running. He's going to be doing some football progressions over the break and then he will look to join the main group in January."
Hayward is back with the group for pre-season which is a huge boost for the Swans as they look to rebound from a heartbreaking finals loss to GWS in 2021.
Meanwhile, Mills is ahead of schedule with the club very happy with the progress he is making.
"He is back in full training now and has fully recovered from his shoulder surgery. He is doing everything normally in the gym and back doing full-contact training well," Raper told the Swans' website.
"Callum is going well and is probably a little bit ahead of where we expected him to be. We've been really lucky to receive some external expert advice from a tendon specialist who has been consulting to Callum. He is running at the moment, he is building his volumes up to five-six km per session so we're happy with his progress."
Sam Naismith is coming back from an unsuccessful ACL operation due to a graft failure which has kept him sidelined for ten months.
"It's obviously going to be a really long and slow progress for Sam," Raper said.
"He is attacking his rehabilitation well. It has been 10 months since his operation now, and he catches up with the surgeon again this week, so we're hoping the surgeon is going to be happy with his progress and is going to allow him to continue his rehab."