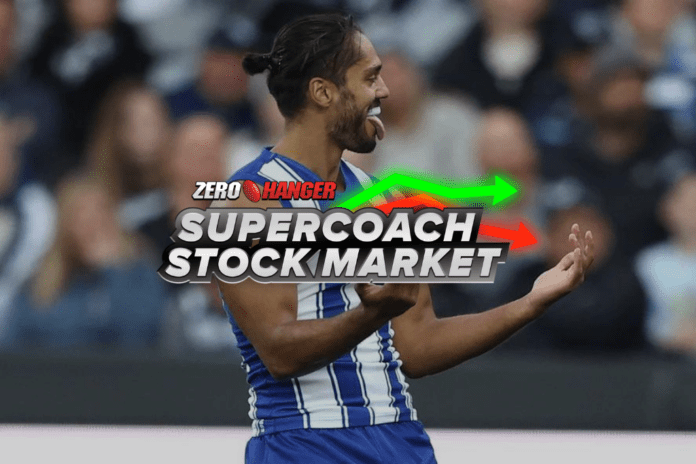 As the AFL Supercoach season heads into it's final bye round, and owners' trades become lesser and lesser, it is so important to nail your trades to set yourself up for a strong run home in the fantasy season.
Check out who to trade in and out, potential rookie downgrades, and point of difference players that may fly under the radar of rival coaches.
TRADE IN
Aaron Hall [FWD][$530,500] 
The Kangaroos forward is fast becoming a must-have in your SuperCoach forward line.
Currently averaging 95.4 points, which was offset by a 6 point game in the opening round of the season due to injury.
Hall has a three-round average of 122, and hasn't dropped below 100 in his last 6 games.
With a breakeven of 56 and a projected price rise of $33.6k, it'd be a wise move to get him into your team before he gets too expensive.
Lachie Whitfield [DEF][$504,400]
The dashing Giants defender is as smooth as they come, and he is just starting to hit some form.
Don't be fooled by his 90.2 average over his 6 games, he missed the start of the season with a bruised liver and took a few games to get his legs back under him.
LACHIE WHITFIELD
Defender / Midfield GWS

SUPERCOACH STATS

92.3
Average Score

$466,000
Price

105
Breakeven
Averaged 111.2 over 16 games in 2019, so you know he can score well with his elite kicking skills and disposal efficiency.
At a touch over 500k, this might be the cheapest we see him for the rest of the season, and looms as a perfect upgrade option for Lachie Jones or Tom Highmore as the bye rounds come to a close.
Lachie Neale [MID][$575,200]
The 2020 Brownlow medallist is just returning from a syndesmosis injury which ruled him out for six weeks.
At the time, most SuperCoaches had him in their teams due to him leading the league in SuperCoach points in 2020.
LACHIE NEALE
Midfield

Brisbane

SUPERCOACH STATS

99.8
Average Score

$474,300
Price

129
Breakeven
Owners were disappointed to start off the 2021 season, with Neale averaging only 81.5 points through his first four games.
Neale then exploded with a 157 point effort against Essendon but was then struck down by injury against Carlton in round 6, where most owners traded him out.
Now fresh off the bye, and holding a 112.3 three-round average, the Lions star is ready to return to some elite form, and is only in 8% of teams at the moment.
Would hold off trading in this week due to a 165 breakeven and a projected price drop of $30k, but next week is a perfect time to bring him in at around the $540k mark.
TRADE OUT
James Rowe [FWD][$284,500]
The rookie Crows forward has been a quality cash cow for SuperCoach owners, but his cash generation has hit his ceiling.
JAMES ROWE
Forward

Adelaide

SUPERCOACH STATS

57.6
Average Score

$275,000
Price

66
Breakeven
With a three-round average of 51, a breakeven of 73 and the bye this weekend for the Crows, it is the perfect time to either downgrade to a rookie cash cow, or upgrade to a forward premium.
Darcy Moore [DEF][$476,500]
With news that the star Collingwood defender has suffered a Grade 2 PCL tear and is expected to miss 8-12 weeks, it is time for the 10.5% of Supercoach owners to trade out.
It is a shame as he had been in really good form over the past five weeks, with a five-week average of 100 points per game.
DARCY MOORE
Defender

Collingwood

SUPERCOACH STATS

89.7
Average Score

$476,500
Price

109
Breakeven
Look to offload to a Tom Stewart [$532,200] or Jordan Ridley [$461,700] if you're looking for a suitable switch for around the same price.
Matthew Flynn [RUC][$385,900]
The Giants ruckman who debuted in round 1 has been a revelation of a cash cow through the eight games he has played, rising $262k in that time frame.
Although he has generated cash, he has been hard to use on the field for most Supercoach owners who own both Gawn and Grundy in particular.
MATTHEW FLYNN
Ruck GWS

SUPERCOACH STATS

87.0
Average Score

$400,800
Price

123
Breakeven
Another problem is that Shane Mumford is still around and plays every second week almost, which limits Flynn's scoring ability and job security within the team.
Look to downgrade for Ned Reeves [$123,900] as a handy replacement and will free up $260k for you to upgrade another rookie to a premium.
ROOKIE WATCH/CASH COWS
Ned Reeves [RUC][$123,900]
The 211cm ruckman for the Hawks has enjoyed a fantastic start to his career, averaging 86 points in his first 2 games of his career.
Reeves is on the bubble with a -98 breakeven, meaning his price will rise rapidly after his next game, with a projected price rise of $80.7k.
NED REEVES
Ruck

Hawthorn

SUPERCOACH STATS

82.4
Average Score

$279,100
Price

-22
Breakeven
This is the week to downgrade Flynn or whoever else was on your ruck bench, as he will rise over $200k if he plays this weekend.
Watch this space, as he was a late out against the Swans on Friday, and his replacement Jon Ceglar was instrumental in the win, but look to get him in regardless as there are four trades to use up for this weekend's games.
Jai Newcombe [MID][$102,400]
Picked up from the mid-season draft by the Hawks, Newcombe was brought straight in to the team against the Swans on Friday, and played extremely well.
With a record 14 tackles on debut and a score of 75, Newcombe looked comfortable at AFL level.
JAI NEWCOMBE
Midfield

Hawthorn

SUPERCOACH STATS

53.3
Average Score

$233,100
Price

-29
Breakeven
Has only played the one game, so you can afford to wait for next week to bring him in, but with seven teams having the bye this weekend, Supercoach owners will need all the players they can get this weekend.
Luke Edwards [MID][$117,300] 
The Eagles midfielder, and son of Adelaide Crows legend Tyson Edwards, has enjoyed a great start to his career with the Eagles.
With scores of 63 and 96 over his first two games, Edwards will likely have a projected price rise of at least $70k.
LUKE EDWARDS
Midfield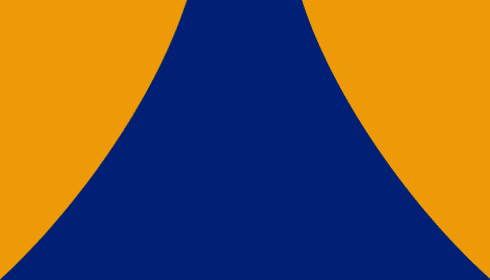 West Coast

SUPERCOACH STATS

49.7
Average Score

$205,000
Price

60
Breakeven
Eagles have the bye this weekend so next week is the best opportunity to bring him into your team before it's too late.
POINT OF DIFFERENCE PLAYERS
Touk Miller [MID][$635,000]
The Gold Coast Suns midfielder is an absolute gun and ball-magnet, averaging 30 disposals, 6.5 tackles and 118.7 SuperCoach points per game.
A steep price tag over $600k, but Miller is worth every cent, with a five-round average of 128.6 points per game, and is only in 6% of teams in the competition.
TOUK MILLER
Midfield

Gold Coast

SUPERCOACH STATS

124.5
Average Score

$661,100
Price

142
Breakeven
A great point of difference in head-to-head match-ups if you're willing to invest.
Mitch Duncan [MID][$545,500] 
The classy and consistent Cats midfielder has always been overlooked in SuperCoach, despite averaging over 100 for the past five seasons, but Duncan delivers week in, week out, averaging 109.1 points per game and is only in 5% of teams.
MITCH DUNCAN
Midfield / Forward
Geelong

SUPERCOACH STATS

99.2
Average Score

$474,900
Price

203
Breakeven
Look to purchase to have a different look midfield to your opponents whilst still scoring strongly.
Jack Crisp [DEF][$529,000]
Crisp is a classy player, and despite a defender tag in SuperCoach, Crisp often plays through the midfield for the Magpies, averaging 26.7 disposals per game.
In what has been a tough year for the Magpies, Crisp has played at a consistently high level, averaging 100 points per game, but is only in 4.4% of teams.
JACK CRISP
Defender / Midfield

Collingwood

SUPERCOACH STATS

104.9
Average Score

$570,300
Price

128
Breakeven
With Darcy Moore out, Crisp may take on more responsible in defence whilst also going through the midfield.
A handy option to basically have a midfielder who hardly anyone owns in your Supercoach backline.