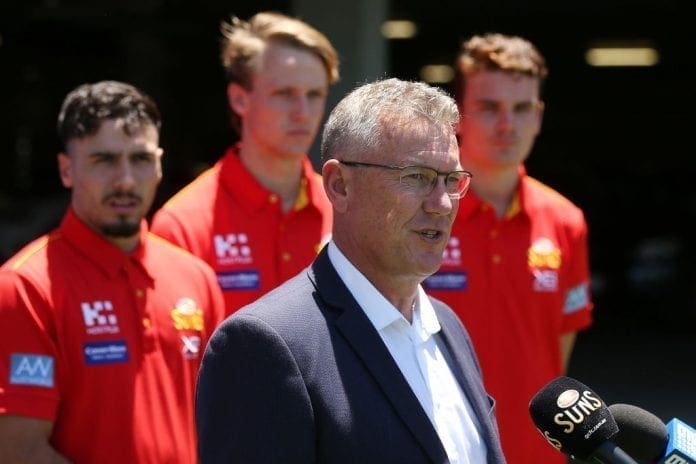 Gold Coast CEO Mark Evans has revealed there is a huge shift in the direction the Suns will be heading in.
Following a major clean-out which all began in August when Tom Lynch decided to leave via the free agency, the Suns now have 24 new faces around their facility.
Top 10 draft picks Jack Lukosius, Izak Rankine and Ben King headline the new faces as 13 new players along with 11 new staff members were all at the club on Monday to begin a new Suns era.
Eight years after being introduced to the competition, 2019 feels like a second start for the Gold Coast team.
Another three more staff members will be added to their player excellence department in the coming months, as well as one more player to round out their list.
Evans said very deliberate re-set transformation of the Gold Coast Suns.
"I don't think you ever have to go right back to Ground Zero, but it's fair to say there's a different strategy if Tom Lynch, in particular, decides to stay at the club," Evans told the club's website.
"With Tom and Steven May exercising free agency, or threatening it for next year, we decided we had to do something to break the cycle.
"It's not just people, it's about our programs as well and you'll see some massive transformations."
Lynch, May, Dion Prestia, Jaeger O'Meara and Adam Saad were among the star players who left the Suns over the last two years, the club has now poured some much needed attention towards it welfare department.
The club will have seven new coaches to help address the issue, with Evans stating they intend to be the best club in the AFL with what they do for payers off the field.
"Everything in life is a challenge, whether you come to the Gold Coast for the first time eight years ago to play in the AFL or you decide the previous system isn't going to work and you need to be bold," Evans said.
"We've been very bold on this re-set and been very deliberate about what we're doing and I think you'll see some of these boys we've just drafted will make big names for themselves in this competition.
"Winning plays a part (in keeping players) but I'm yet to see when a player who is really invested in his coach and he's really happy with how his football is going, people don't often move.
"If we can get to that position in the next 24 months we'll have done a good job.
"We look forward to proving our critics wrong."