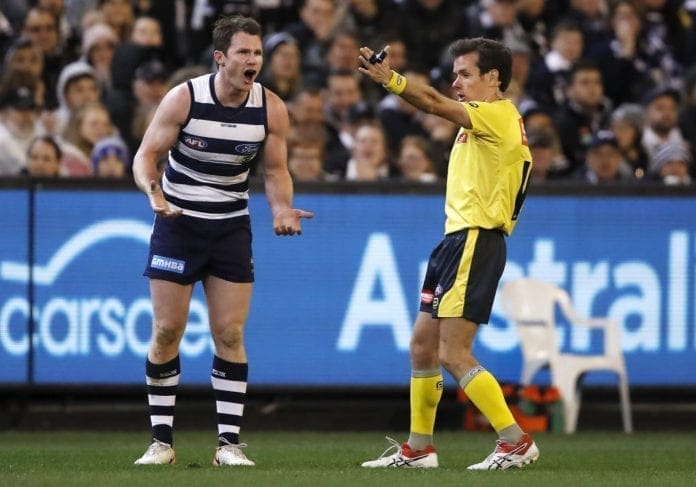 Geelong midfielder Patrick Dangerfield is facing a nervous wait from the Match Review Officer following a bump that left Adelaide defender Jake Kelly with a concussion.
Kelly was carted off the field after a collision of heads with Dangerfield, with the incident now placing the 2016 Brownlow Medal winner in hot water.
With Kelly in possession, Dangerfield looked to impact play before bracing for a bump as Kelly released a handball.
Is Dangerfield in trouble for this bump on Jake Kelly?

(via @AFL)pic.twitter.com/Sprqt1RAcQ

— 7AFL (@7AFL) March 20, 2021
Geelong coach Chris Scott came to Dangerfield's defence in the post match press conference that followed the Cats' shock loss to last year's wooden spooners.
"My take was when you've got two players running full-speed at each other, and one player kicks the ball just before contact, then the player should do everything you can not to hurt the other player," Scott said, per The Herald Sun.
"Don't jump off the ground, don't raise your arms, you can't tackle him … sometimes players run into each other and there's a head clash. I don't think he intended to headbutt him, that's for sure.
"To my eye, it looked like he (Dangerfield) was doing everything he could to protect himself and the other player.
"It's a game we play – two guys running at that speed straight at each other. Collisions happen."
Fox Sports analyst Alastair Lynch compared the incident to Richmond defender David Astbury's strike on Carlton's Lachie Plowman earlier this round.