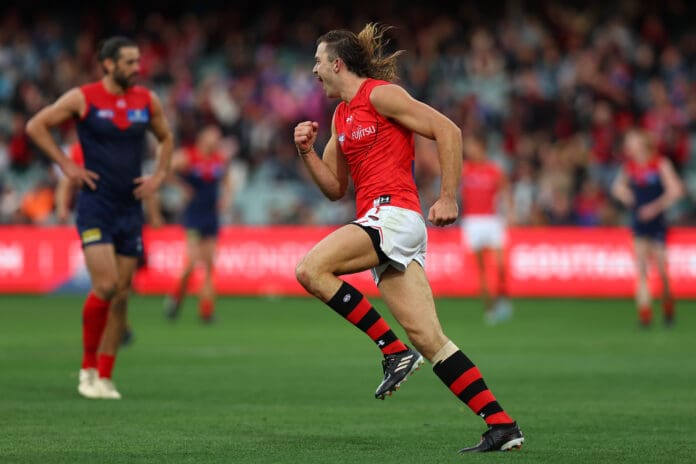 Essendon coach Brad Scott has opened up the difficulties of having key players out for periods throughout the season particularly the business end of the season when everyone wants their best players on the field.
It has been a tough year for the Bombers in the injury sense but found themselves playing good footy for the most part before falling out of the top eight before now finding themselves in 13th with a record of nine wins and ten losses. Essendon have lost four of their last five including an active three-game losing streak.
Brad Scott spoke with reporters giving an update on the situations about Jake Stringer, Sam Draper and Jordan Ridley who are all trying to complete their rehabilitation before the completion of the home and away season.
Quizzed on the possibility of one or more of the Bombers' injured stars returning, Scott couldn't provide the positive news Essendon fans were hoping for, ruling out three key contributors for another week at least.
"Not the ones we've been talking about, you know; (Jake) Stringer, (Sam) Draper, obviously (Jordan) Ridley will all miss again," Scott told reporters on Wednesday.
"In the case of Stringer and Draper, it is a week-by-week proposition, unfortunately.
"We are none the wiser in terms of when they'll return but they're good enough to start some running load, so it will be a matter of how quickly we can get them into main training that we can start to put an estimate as to when they will return to play, but it won't be this week."
But worse yet for Bombers fans is the question of whether the trio will be seen again this season, as the end of the 2023 campaign creeps closer.
Scott was reluctant to speculate but admitted there are 'good enough signs' regarding the potential imminent returns of the aforementioned crew.
"It's such a hypothetical, I wouldn't want to speculate one way or another because we just genuinely don't know, but there's certainly a chance, they are showing good enough signs that we are pushing really strongly," Scott continued.
"By no means have we put them on ice and said they won't play again, there's still a lot to play out for the rest of this season, and Jordan Ridley fits in that category as well that he's rehabbing with a view to play again this year.
"That's the case for all our players, and Draper and Stringer certainly fit into that (too)."
Promisingly, Scott did reveal midfielder Will Setterfield will return to VFL action this weekend.
"Probably the one update, Will Setterfield will play at VFL this week, he's been training really strongly and the temptation (is there to select him), he is available for senior selection but he's missed quite a big chunk of football, so he will play VFL footy this week, which is a really important step forward for him and for us to get back in our team."
In additional positive news for Essendon fans, Scott is considering blooding youngster Elijah Tsatas following several head-turning performances for the VFL Bombers.
"I think trying to select the side before you've had your main training session … for me, it's always fraught with danger," Scott added on Wednesday.
"Everyone has to remember he missed over three months with a knee surgery right on the eve of the season, so it's been a long, slow build for Elijah.
"His performances are really starting to knock the door down, so he's very, very close."
Essendon plays the West Coast Eagles at Marvel Stadium this Saturday, August 5 at 1:45 PM (AEST).