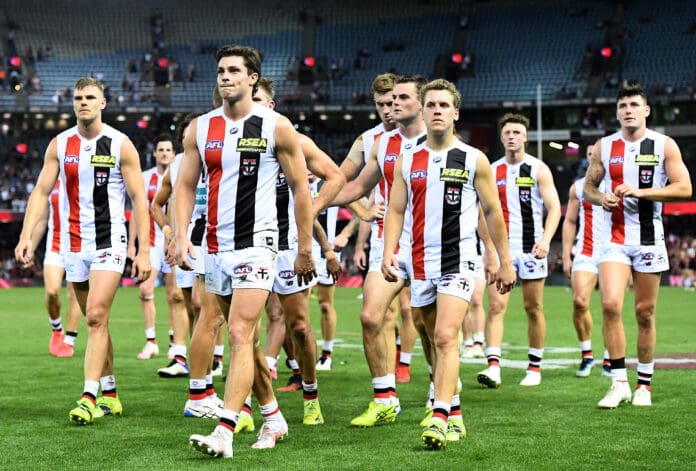 St Kilda great Leigh Montagna has provided an honest assessment of his former club.
Criticism over St Kilda's list management has been coming thick and fast in recent weeks following an unsuccessful 2021 campaign.
After a quiet trade period for the Saints saw only Luke Dunstan exit as a free agent, Montagna has again expressed his concerns over the club's list strategy.
'St Kilda's window is for the now but I don't think they are good enough for the now.'

Leigh Montagna with some strong words on his former club. #TradingDay 📺 pic.twitter.com/nU2aEcgcsN

— Fox Footy (@FOXFOOTY) October 13, 2021
Speaking on Fox Footy's Trading Day, the former Saint believed St Kilda has "overreached" in recent trade periods and were still several years off seriously competing.
"It's a strange one because their list profile is for the now but I don't think they're good enough now. So I think they need to step back a little bit, go to the draft, find some more talent and have a bit of patience," Montagna said.
"I think they overreached and were trying to be a bit optimistic by going and grabbing Hannebery and Hill and Crouch when they probably weren't ready, so now they need to take some time.
"The problem is it leaves them with only a small window because in two or three years time their best players are going to be closer to 30.
"They've got themselves in this pickle and they'll need everything to go right for them to win a premiership in the next few years."
Montagna made similar points at the start of the trade period, believing the Saints had to be "chips in" on their current group of players.
Fellow panellist, David King went a step further with his scathing assessment of St Kilda's list.
"They don't have a window, I'm sorry. This has been a construct that no one else would've put together." King said.
"I couldn't be as bullish on this list or contending in two years time as what others are. Where are their stars coming from? Where are their top-liners coming from?
"We've been sold that next year was their year, but they can't keep sending letters every year. If next year is your year, let's see it. I don't believe it's there, I really don't.
"It's a bit harsh to say, but they've had four top-30 picks in the last four years, so there's a void coming that's chasing these 27 and 28-year-olds. If they're not contending in the next two years, the gap arrives and you end up on the never-ending rebuild treadmill."