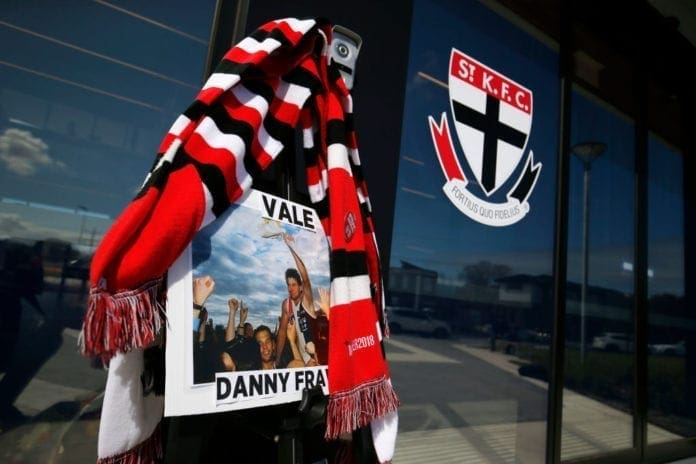 Recent reports show St Kilda great Danny Frawley suffered a neurological disorder caused by repeated brain trauma.
Research into chronic traumatic encephalopathy (CTE) has found that concussive and sub-concussive knocks can lead to this disease.
CTE can only be diagnosed for after death.
Anita Frawley told the Herald Sun her late husband's brain was analysed following his death in September last year, and confirmed he suffered Stage II CTE.
This made Frawley the second AFL player to suffer from this disorder.
Former ruckman Graham 'Polly' Farmer suffered Stage III CTE, and was diagnosed with Alzheimer's at the age of 64.
His family reported changes in his personality and memories in the final five years of his life.
Football champion Danny Frawley was suffering from the neurodegenerative disease caused by repeated blows to the head when he died, according to an analysis of his brain handed to the coroner.https://t.co/21HDheFeHV

— Real Footy (AFL) (@agerealfooty) August 31, 2020
Frawley's wife Anita said she "suspected there was more going on with Danny than straightforward depression" before his death.
"His mental health battles, and his strong advocacy for mental health issues, were well known.
"I am very grateful for the work of the Australian Sports Brain Bank in shining a light on this disease," she said.
"We want to prevent other families going through what we did.
"We are waiting for the release of the coroner's report before any further comment, however, I want people to know about the problem now, and not wait, as I believe this may help families understand the issues," Ms Frawley said.
This years' season saw tightening of rules surrounding concussions, making concussed players pass an assessment five days before taking the field.
Paddy McCartin, Koby Stevens, Liam Picken and Jack Frost are among players in recent years who have left the AFL following concussions.
In 2018, 74 players suffered a concussion in an AFL match, up from 63 the year before.