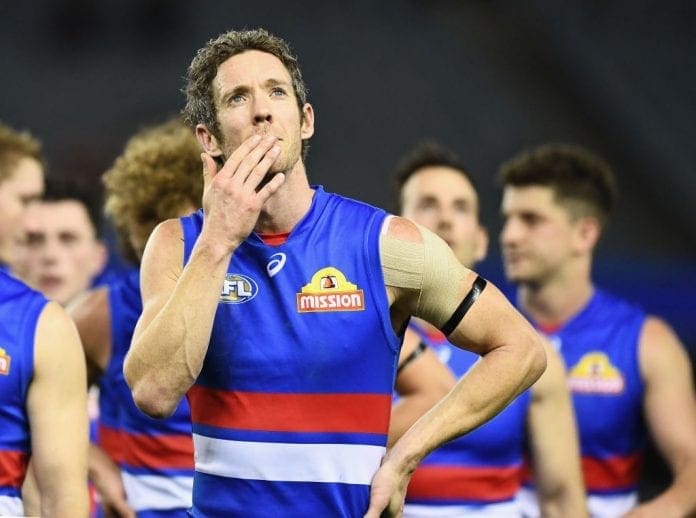 Every child's dream is to play on that one day in September.
The bubbling desire for glory is the petrol that fuels all teams and players.
Players like 426-game Hawthorn star Michael Tuck have been fortunate enough to win seven premierships, while other players like St Kilda Legend Trevor Barker, didn't even get to run out in a final across his 230-game career.
*Editor's note: This article was originally written the week before the 2021 AFL Grand Final.
The Nathan Jones story is a particularly heart-breaking one. Captain for six-years, three-time Keith 'Bluey' Truscott Medallist, 302 games, 198 losses and one admirable decision to fly home back to Melbourne and be with his wife for the birth of twins. A choice that is likely to leave a lump in the throat of any footy lover.
As a man who did so much for a club when they needed a leader, Jones now won't be able to join in the potential success of breaking the 57-year drought he worked his backside to topple.
Sport is unquestionably hard, and that is why we love it.
Only a matter of days before one club tastes September glory, we are looking at some of the unluckiest grand final stories in history, and the players behind them.
14. George Gibbs - Fitzroy/Collingwood (1927-1930)
Gibbs' split second decision of pacification during the 1929 Semi Final changed his career.
A part of the formidable Collingwood Machine, which won the famous 1927-30 four peat, Gibbs is one of the very few who was cruelly denied a spot.
In the opening minutes of the Semi Final, Collingwood captain Syd Coventry was smacked behind play, Gibbs, who was near Coventry, didn't square up the Tigers opponent and was dropped by legendary coach Jock McHale two weeks before the Grand Final.
Gibbs worked hard to get back into the side for the 1930 preliminary final after a broken wrist but was once again overlooked at the selection table.