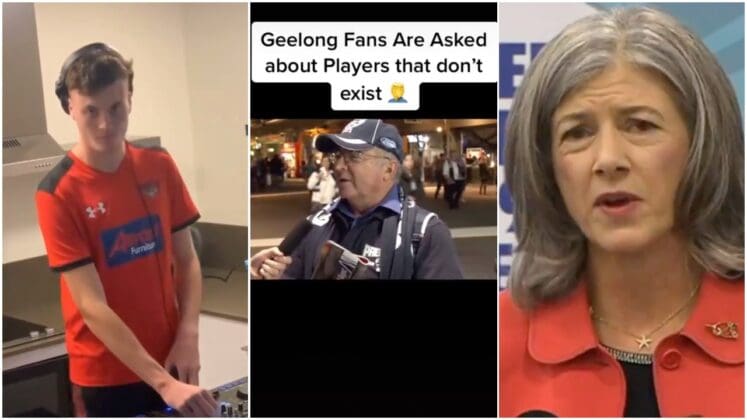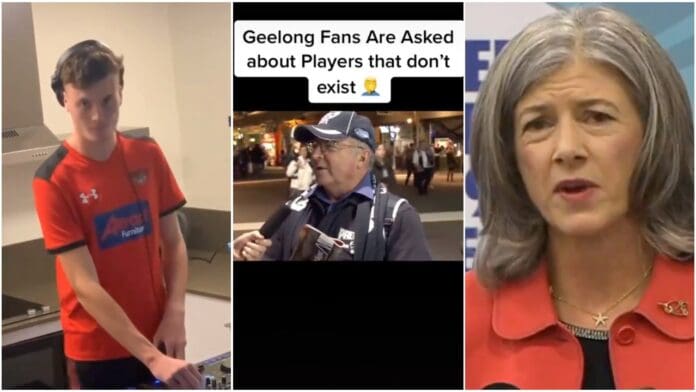 It's been another big week in footy, and with that comes plenty of discussion and humour.
Let's take a look at what has made news this week and what the fans have had to say.
SA CHO's Unusual Request For The Football This Weekend
With the recent COVID situation in Victoria sparking plenty of fear around the nation, South Australian Chief Health Officer Professor Nicola Spurrier may have taken it to another level.
In a recent press conference, Spurrier talked about the touching of the footballs in the crowd, saying "If you are at Adelaide Oval and the ball comes towards you, my advice to you is to duck and just do not touch that ball."
Let's just say the request didn't go down too well with the AFL community. Here are some of the best responses:
Oh shit! Look out everyone, here comes the ball! pic.twitter.com/2EWfK9OY6R

— Scotty (@ScottyMullet) June 2, 2021
— Georgia Bennett-Murphy (@georgia_bm_) June 2, 2021
Not touching the ball during an AFL game.
I was ahead of my time.

— Daniel Healy (@healsdj) June 2, 2021
Just a day after, Spurrier further explained why she made the request to attending fans.
"Regardless of COVID, this ball has been touched by many sweaty men out there on the field." Spurrier said.
"Just go and sanitise your hands before you start eating your chips."
Well, the responses were as you'd expect.
This cant be real. She has to be taking the piss.. https://t.co/A9Tw3xHKOh

— Mick Di Manno 🐯🐯🏆🏆🏆 (@mad_82) June 3, 2021
The gift that keeps giving 🤣🤣🤣🤣🤣🤣 https://t.co/dpDU6dzP9V

— David (@hooksbaited) June 3, 2021
I'm lovin' this lady... she's winding us up now... playing along... first class https://t.co/mAJWlnGSxQ

— adrian barich (@adrianbarich) June 3, 2021
The Mid-Season Draft Brings Back A Classic
The mid-season draft is a chance for players who have nominated that may have been over-looked in drafts, in the VFL/SANFL/WAFL or even the local leagues to earn their chance at a regular AFL gig.
Because some of these names who get drafted or are apart of a clubs reserves aren't names that some would particularly be familiar to the public, it's always interesting when these names get brought up.
A few years ago, a video was released of someone asking Geelong fans about particular players. The only thing though, the names were made up players.
The responses by the fans are quite hilarious.
Haha... could do this with every club probably pic.twitter.com/DLMn90KMr3

— Brad (@bitey26) May 31, 2021
New Collingwood Draftee May Have Some Explaining To Do
Speaking of the mid-season draft, this player might have some explaining to do to his new club.
With the third pick in the draft, Collingwood selected Sturt forward Ash Johnson which is set to help the Pies in a big way with their forward stocks.
During 2018 though, Ash had some words to say about the Pies on facebook that he might want to take back now that he's at the club.
Funny how the world works sometimes.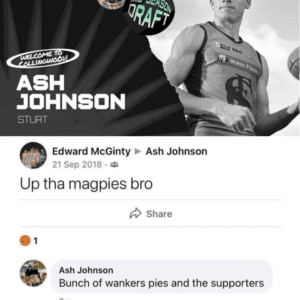 Nathan Buckley The Next Clarko?
On last weeks edition of 'First Crack' on Fox Footy, Ben Dixon compared Nathan Buckley to champion Hawthorn coach, Alistair Clarkson in what has been one of the more controversial calls of 2021.
"From a footy IQ point of view, he (Nathan Buckley) is the next Clarko." Dixon said.
Well, fair to say the call didn't go down so well on social media.
Dicko has symptoms of delayed concussion

— George (@Fudge2409) May 30, 2021
IQ means nothing without EQ & how to use it properly pic.twitter.com/epmsZPW6ix

— Robyn Vaux (@RV_27) May 30, 2021
This Is Just Too Cute!
On the week where he would be running out onto the field with his dad, Tim Kelly's son's school made a little booklet to celebrate the occasion, and it is the cutest thing ever!
I'm so glad they've been able to get a good level of care for their kids ❤️ pic.twitter.com/niDdIbzbjR

— Rudi (@RudiEdsall) May 30, 2021
Pies Fans Trying To Snipe Another Richmond Mark Of The Year Contender
In Richmond's round 8 clash with Geelong, Shai Bolton had almost certainly taken mark of the year with an unbelievable display of athleticism that wowed those within the AFL world.
In the same round just a day after Bolton's mark, Collingwood's Brody Mihocek took a screamer that would certainly challenge Bolton's unbelievable mark, so much so that in a surprising decision, it was the mark by Mihocek that was voted as the winning mark of the year contender for round 8, sparking plenty of discussion about how the voting and selection of the best marks and goals should be done.
Fast forward to round 11, and it was Richmond's Jack Riewoldt who took one of the more amazing and courageous grabs you will ever see on a footy field that would be yet another mark of the year contender (this time actually winning).
But, that didn't stop the Collingwood faithful from trying to snipe yet another mark of the year contender away from the Tigers grasp.
Come on Magpie fans…get behind Sidey for mark of the week!! 😂 pic.twitter.com/gEL5yR6Zgh

— John Carr (@TheHolyBoot) May 30, 2021
Harry Taylor's Extra Motivation
As an extra motivator before each game, former Geelong star Harry Taylor would sign a pledge to himself to hold himself accountable.
Bit odd maybe, but hey, it worked out pretty well for him over his career.
An Accurate Lockdown Depiction
North Melbourne's Kaitlyn Ashmore provided everyone with some lockdown humour this week.
The trick shot video made by Ashmore would definitely appear to be an accurate representation of the current COVID situation between what's happening around Australia, and then in Victoria.
Funny stuff.
Wait for it … the moment you realise! 😱🏉

🎥 @KaitAshmore pic.twitter.com/mw1E7r9DkR

— ABC SPORT (@abcsport) June 2, 2021
Is There Anything Nik Cox Can't Do?
We all know about the excitement Nik Cox brings to the game and the things he can do on a football field that your normal 200cm wingman may not be able to do.
But, I bet you didn't know he could also lay down some tunes.
Nik Cox - a young man who can do it all.
Nik Cox on the decks.

Man of many talents 🎧🦄

(via IG/Brayden Ham) pic.twitter.com/tEHS377wiH

— 7AFL (@7AFL) June 2, 2021