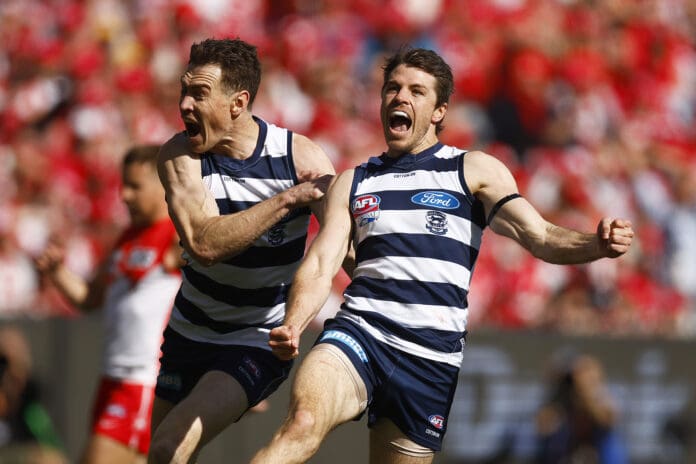 Norm Smith Medallist Isaac Smith has paid tribute to his late grandfather following Geelong's dominant 81-point grand final win over Sydney.
Smith was awarded best on field by a panel of judges for his 32 disposal, three goal effort, adding yet another medal to his now four premiership wins.
After collecting the medal, Smith paid tribute to his "hero" pop, who passed away last week.
"My pop, who I was very close to and had a lot to do with the person I am today, my Dad's father, passed away last Wednesday night," Smith said post-game.
"It hit me last week probably and that's why I probably didn't get a touch for the first half of last week's prelim.
"I made a mad dash to Albury and spent 24 hours with him, I'll be forever grateful he was still mentally there. We had a great 24 hours together.
"Although it was very upsetting, it's been a beautiful time for our family."
Smith was awarded the three votes from all but one of the judges, with Andrew McLeod, Jonathon Brown, Michael Gleeson, Abbey Holmes and David Mundy those in charge of the votes.
At age 33, Smith becomes the oldest ever winner of a Norm Smith Medal.
NORM SMITH VOTES
Andrew McLeod
3. Smith
2. Dangerfield
1. Blicavs

Jonathan Brown
3. Dangerfield
2. Smith
1. Stengle

Michael Gleeson
3. Smith
2. Dangerfield
1. De Koning

Abbey Holmes
3. Smith
2. Dangerfield
1. Stengle

David Mundy
3. Smith
2. Stengle
1. Dangerfield