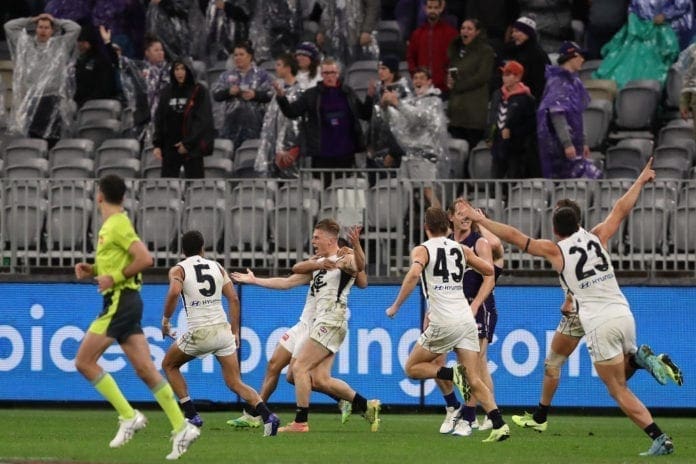 Following a sextet of victories to end 2019 under David Teague and the introduction of talent via both the draft and trade period, there was an air of optimism around Princes Park prior to Round 1.
Although the Blues failed to top the Tigers on the season's opening night, they were able to better their record to 2-3 by the time they exited their home state following Round 5.
The remainder of the season had a familiar feel for Blues fans - slow starts, hot finishes and a bevy of honourable losses. In the end, Teague's men finished the interrupted season with a 7-11 record and in 11th spot on the ladder.
Although 11 losses is never likely to guarantee finals - especially in such a condensed season - the ability for Carlton to remain in games for longer pointed to a collective maturing of their precocious young list.
Should this upward trend continue once new Blues Adam Saad and Zac Williams hit the track, then it seems unlikely that any diehard Blue-baggers will be booking a holiday for the month of September.
BEST WIN
Round 12 vs Fremantle - Although the margin recorded in the west wasn't their season's highest, Carlton's victory over the Dockers was arguably their most important.
Having trailed by more than three goals at quarter time, a pair at the half and two points at three quarter time, the Blues refused to put the cue in the rack after their 0.1 opening term.
It would eventually take Carlton all night and the aid of a few questionable umpiring decisions to topple the Dockers, but the hard won four points was symbolic of the playing group's maturation.
Ed Curnow (33), Patrick Cripps (24), Sam Walsh (24) and Marc Murphy (23) all may have had the ball on a string, but it will be Jack Newnes' after the siren winner that will live long in the minds of Carlton fans everywhere.

WORST LOSS
Round 9 vs Hawthorn - After jetting across the country to their mini hub in Perth, Carlton came into their clash against the hapless Hawks with a 4-4 record.
Pundits - both professional and amateur - had roundly tipped the Blues to back up their victory over North Melbourne six days prior, and after a hot start, punters were lining up early to collect.
With five goals on the board at quarter time, Carlton led by 19 points. When Levi Casboult kicked his second five minutes into the second term, the four premiership points looked as good as locked.
However, with a far more seasoned squad, Hawthorn slammed on 12 of the last 15 goals to issue the fledgling Blues a harsh reality check via a 31-point loss.
Cripps with 27 touches was the only Carlton player to top 20 disposals, with nine of his teammates failing to register double digits.
MVP
Jacob Weitering - As the only Blue-bagger named in the 2020 All-Australian squad of 40, it is impossible to go past the tall defender.
The former number one draft pick's season saw an amelioration in almost every facet of his game.
Weitering may have ended 2020 with an average of 8.6 kicks, 2.5 handballs and 4.3 marks per game, but it was his one-on-one defending that truly shone.
It wasn't often that Weitering was beaten this season, with the now 23-year-old accruing the scalps of Tom Hawkins, Tom Lynch and Jeremy Cameron across his 17 appearances.
With Weitering almost certain to take out Carlton's Best and Fairest this year, it was no surprise that the club acted swiftly to lock him away on another four-year deal.
MOST IMPROVED
Sam Walsh - It could be argued that Weitering also deserves this tag, but with the continued rise of another of Carlton's number one picks, it is only fair that we laud Sam Walsh too.
In his second season at senior level, Walsh managed to play every game of the interrupted season. The former Falcon finished the year with averages of 20.5 disposals (8.4 contested and 12.5 uncontested) and 2.7 clearances per game.
The blue-chip prospect also managed to improve on his goal tally - 6 to 8 -  from his Rising Star season into his sophomore year.
Although Walsh's time on ground percentage dipped in 2020, concessions can be made due to the extraordinary nature of the fixture.
After finishing alongside Weitering in the 22under22 squad and with the Mark of the Year to his name, now is the time to buy stock in the 20-year-old, as he we are still yet to view his peak.
NEEDS TO LIFT
Mitch McGovern - Following an array of solid performances as a Crow, the expectations on Mitch McGovern were relatively high when he walked into Princes Park.
However, since crossing the South Australian border at the end of 2018, McGovern has proven reminiscent to a mid 2000's version of Matthew McConaughey in that he has failed to launch.
In his 12 games this season, McGovern posted just nine goals and in five of these appearances, the out-of-form forward failed to hit the scoreboard at all.
Once seen as possessing some of the safest hands in the game, the 26-year-old failed to take more than seven grabs in a game this year finishing with an average of 3.25 per outing.
Carlton fans will be desperate for McGovern to adjust both his approach and output next season, as if not, it appears unlikely a sizeable contract extension will materialise.
INS AND OUTS
In
Zac Williams (GWS)
Lachie Fogarty (Geelong)
Adam Saad (Essendon)
2nd-round pick (38) (Geelong)
3rd-round pick (48) (Essendon)
4th-round pick (78) (Essendon)
Out
1st-round pick (8) (Essendon)
2nd-round pick (30) (Geelong)
3rd-round pick (51) (Geelong)
5th-round pick (87) (Essendon)
Matthew Kreuzer (retired)
Kade Simpson (retired)
Matthew Kennedy (delisted) *set to be re-drafted
Hugh Goddard (delisted)
Darcy Lang (delisted)
Harrison Macreadie (delisted)
Callum Moore (delisted)
Finbar O'Dywer (delisted)
Fraser Phillips (delisted)
Cameron Polson (delisted)
Ben Silvagni (delisted)

2021 CRYSTAL BALL
Prior to the 2009 season, Carlton's membership department ran an advertising campaign behind the slogan 'They Know We're Coming'.
Although they were 11 years premature in presuming their rival's fear, should they release the catch cry again for 2021, it is likely to be met with agreement rather than amusement the second time around.
With a list that began to close the gap between their best and worst this season, some stand out individual performances and a few collaborative triumphs, Carlton are not far away from finals football.
With the aforementioned additions of Saad and Williams in positions that needed bolstering, the Blues should have their benchmark set at a place in the eight.
Whether or not this will eventuate is yet to be determined, as injuries and a tough fixture could send the rebuild into yet another season.
However, for a club that has historically never lacked self confidence - even after decades of solitary confinement in the competition's cellar - anything less than a September berth is likely to be seen as under par.