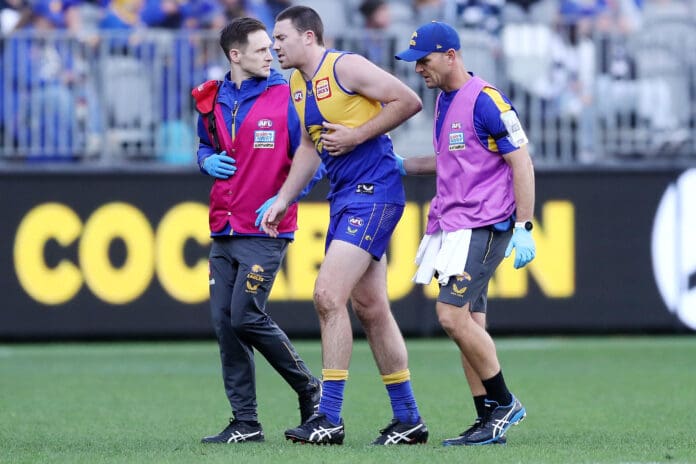 West Coast Eagles star Jeremy McGovern will not return to play in 2022 due to a serious rib injury sustained four weeks ago.
McGovern fell victim to an accidental knee to the ribs in Round 14 against Geelong, after which he required assistance to leave the ground.
He spent several nights in hospital as a result and required surgery to have a plate inserted to support broken ribs.
McGovern was always facing an uncertain recovery period, but further consultation with his surgeon has prompted today's announcement that he will miss the final six weeks of the home and away season.
West Coast Football Manager Gavin Bell said it was a concerning injury and the club will be guided by the medical assessment.
"It is a very nasty and concerning injury that Gov has been dealing with," he said in a club statement today.
"He has been back at the club in the last week and has been on light duties, but a medical review has recommended that he does not play again this season.
"While Gov has shown a high pain tolerance throughout his career and was keen to do everything possible to play at some stage in the last six rounds, we are guided by the assessment of the medical staff."
Meanwhile, Supplemental Selection Period recruits Luke Strnadica (personal reasons) and Tom Joyce (ankle) also won't play again this year.
Strnadica has decided to step away from the Eagles and will not continue with the club, departing after two appearances in 2022.
Joyce sustained his setback in the pre-season and has been unable to feature for West Coast this year.