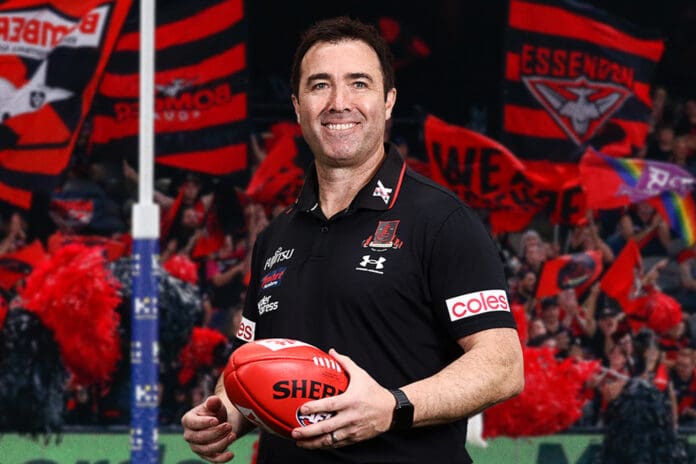 For the first time in a very long time, the Essendon Football Club was able to take a long, deep, relieved breath on Friday.
Almost seven weeks after the carnage and turmoil that plunged this most famous, but perennially underachieving, club into an unmitigated crisis, the seas have become a lot calmer out at Tullamarine.
It has a new coach in Brad Scott, a new president in David Barham, a new CEO is on the way, and it has a (mostly) united board, despite the legendary Kevin Sheedy's best efforts to let the world know that he is firmly still on team James Hird, as if we didn't already know that.
It's a far cry from the organisation whose board underwent a civil war, a change in presidency and, most galling of all, audaciously attempted to hire a new coach while its then-current coach still had the reins in his hands.
For a club that is well accustomed to tumultuous times, even that crazy week in the middle of August was one of the most embarrassing chapters in its long and storied history.
The blood-letting didn't stop there, though, because former coach Ben Rutten, dignified until the very end, was sacked shortly after suffering the ignominy of coaching the final round knowing his club had made a play for former Hawthorn coach Alastair Clarkson, who ultimately joined North Melbourne.
The CEO Xavier Campbell fell on his sword, just months after signing a new two-year deal, along with multiple board members, including Barham's predecessor Paul Brasher.
Not the most dignified way for Essendon to cap off its 150-year celebrations.
But from great upheaval comes great change, and for the first time in a long time, it seems as though stability has arrived at Bomberland and there is genuinely a glimmer of hope for the success-starved club about its future.
After doing away with Rutten in unceremonious fashion, rather than go on a headhunting mission for their next coach, for the first time in 15 years (and five full-time coaching appointments), the Bombers actually set up a coaching sub-committee and underwent an independent and thorough interview process to find its next coach.
Scott was chosen from a shortlist of over 20 candidates. Very un-Essendon-like - it actually behaved like a normal club.
And the fact that there were no leaks about Scott being approached by the club to enter the process, while he was still in charge of football operations at league HQ, was another indicator that this might not be the same club that has battled to stay on the tracks since Sheedy's departure in 2007.
Perhaps most impressive of all, and the biggest sign of its rapid maturity as a club, the Dons didn't get seduced by the prospect of hiring a saviour/messiah, ie. James Hird.
While Hird partook in the process, and good on him for doing that, he was always in an uphill battle to earn a third stint as Essendon coach considering he had not been on the footy scene for six years before joining the GWS coaching team this season.
Hopefully, this experience whets his appetite and he begins an extended apprenticeship as an assistant coach somewhere, like St Kilda coach Brett Ratten and Carlton coach Michael Voss did before getting a second chance as a senior coach.
But as this writer stated in this column earlier this year, the best thing for Essendon and for Hird is to remain apart in a professional sense. They need to go their own ways, and stop looking in the past. It's best for both parties.
And on that same note, the time has probably come for Sheedy to depart as well.
His comments published in the Herald Sun on Friday about how he was the only board member who voted for Hird to be Essendon's new coach were counterproductive.
Sheedy will always be regarded as one of the greatest figures in the club's history, let alone the sport in general. After all, he is an Australian Football Hall of Fame Legend and Essendon's only official 'Immortal'.
But much-needed change has swept through The Hangar in recent months, with almost all ties to the past, and the drugs scandal, in official positions severed. The Bombers are ready to start writing new chapters of its history, and with Sheedy there regularly acting mischievously, the clean air the club so badly craves isn't completely there to enjoy.
Let's not forget that he publicly railroaded the Bombers' last-ditch attempt to hire Clarkson in August, although in hindsight that probably worked in Essendon's favour given the mess the four-time premiership coach now finds himself in.
As for the new coaching appointment, Scott is a solid and smart choice.
He has enjoyed a continuous involvement in footy for the past 28 years – 12 as a player with Hawthorn and Brisbane, three as an assistant coach at Collingwood, nine-and-a-half as North Melbourne coach, and another three at league headquarters as AFL Victoria head and AFL football operations boss.
In his time at Arden Street, he guided the Kangaroos to four finals series, including a pair of preliminary finals. The Dons haven't made it that far since 2001.
Scott has a sparkling footy resume and it's not surprising that it trumped the likes of Adem Yze and Hird.
Essendon aren't out of the woods by any stretch, and a lot of hard work is still required for them to become a respected team and club again.
But with Barham, Scott and the incoming CEO all in lockstep and on the same page, the Bombers certainly have a fighting chance of finally becoming a regular finals contender in the next few years.