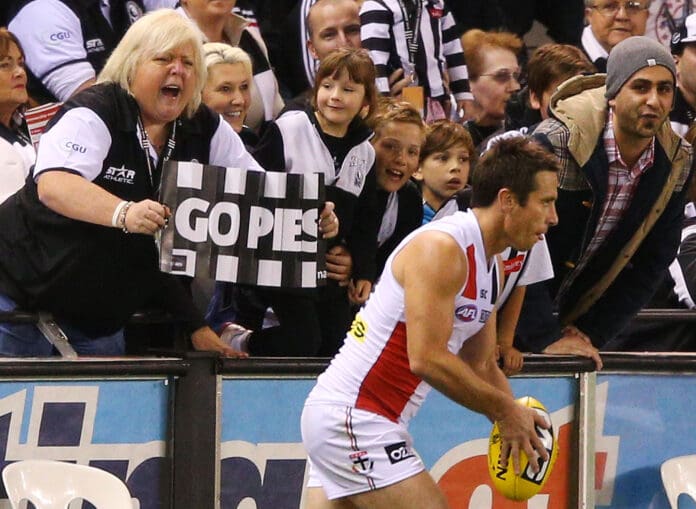 Throughout his remarkable career at Moorabbin, St Kilda great Stephen Milne was always a polarising figure for AFL fans, becoming "the most hated player in the comp" during his career that spanned 13 years and 275 games.
Speaking on Real Talk with Beno, when asked about the crowd abuse and interaction he endured, the 42-year-old said that he was unfazed by opposition fans during his playing career.
"It didn't impact me at all," Milne said.
"I don't know any supporters or anything like that, I just loved the St Kilda supporters and hated every other supporter.
"It was just more theatre than anything.
"It was just a bit of muck around stuff and every now and again you'd hear a couple of things but nothing major because you're so focussed on the game."
The two-time All-Australian opened up on how he loved to feed off opposition fans and would spark them up himself to get a reaction, often in a cheeky fashion, saying it was "more fun than anything".
Milne said he "was pretty happy" as being one the most hated players for "three or four years in a row", but admitted he didn't "think about it until someone [said] it".
"I did thrive off it, get a kick early and get yourself up and about and blow a kiss to the Collingwood cheer squad and Carlton cheer squad to get them involved," Milne said.
"If Fraser [Gehrig] kicked a goal or 'Rooey' (Nick Riewoldt) kicked a goal and I'm in the goalsquare and watching it go through, I'd stick the finger up or give a fist up or blowing them kiss it was more them going crazy at you.
"It was just good fun at the end."
However, with the dominance of social media in the AFL world and a number of cases of abuse being made towards players across different platforms, Milne said he was "100%" glad he retired before social media took over.
The former small forward himself admitted he used to buy newspapers in search of his name.
"Early days I used to buy the Herald Sun and see if my name was in it and check if I was in the best players because you're just a kid wanting to play footy," Milne revealed.
"I'm not a big social media man but even if I was, I wouldn't have thought I'd read it because you're reading stuff from people you don't even know.
"So I was a firm believer in the coach, your parents, your mates, people you trust, your manager and that's it.
"I couldn't care less what bloody John Smith or Ralph whoever says.
Milne said that while he understood why players would read social media, he encouraged them to at least limit their usage as these platforms grow across society.
"I'm old school in that kind of thing but I do get how some people or kids read it cause if they see good things on there, they feel good about themselves," Milne said.
"I think the kids shouldn't have it or use it very little."
"It's more interacting with people and creating memories, not 'look at what this guy did' on the phone, I couldn't give a sh*t what someone else did."
"But now you can see it straight after on Twitter, whatever someone did wrong and it is all negative."
After being selected in the 2000 Rookie Draft, Milne played 275 games for St Kilda, kicking 574 goals and becoming a part of only a handful of non-key position forwards to kick over 500 career goals before his retirement in 2013.
The full Real Talk with Beno episode and interview with Stephen Milne will be available on Thursday.