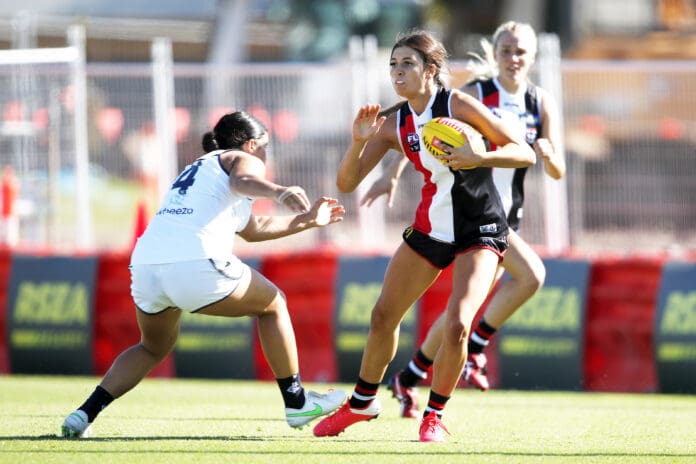 St Kilda have confirmed vaccine-hesitant star Georgia Patrikios is among 22 newly re-signed players for the upcoming season, with the young midfielder inking a two-year deal at Moorabbin.
The decision comes two months ahead of the seventh season of the AFLW, with clubs putting the final touches on their lists ahead of the resumption of pre-season training.
Eyes were firmly set on Linton Street in regards to Patrikios' next move, with the 21-year-old having sat out the year so far due to her reluctance to follow the AFL's vaccine mandate.
"I've been taking some time away from the club to consider my options and dissect my owns feelings about receiving the COVID-19 vaccine," Patrikios said in November last year.
"At this time, I remain unvaccinated, however, I'm committed to learning more, consulting with additional medical professionals and continuing to discuss this with my family before ultimately making a final decision.
"I recognise that my personal timeline does not align with the AFL mandate and as a result I am currently unable to complete my duties at the club."
The AFL are yet to ease their mandate on vaccines, with the league likely to confirm any changes prior to the start of the upcoming AFLW season in August.
The Saints confirmed Patrikios' signature for seasons seven and eight of the AFLW on Friday, stating: "her availability and contract terms are contingent upon changes to current AFL mandates".
Patrikios - a two-time best and fairest winner from just 15 games in the red, white and black - holds a key role in Nick Dal Santo's midfield contingent, which has seen a major revamp in personnel across the off-season.
The Saints have bid farewell to Alana Woodward, Tahlia Meyer, Paige Price, Kate McCarthy, Isabella Shannon Tilly Lucas-Rodd, Cat Phillips, Rhiannon Watt and Jacqui Vogt in recent weeks.
The list of departures have been combated by St Kilda's acquisitions of Nicola Stevens, Erin McKinnon, Grace Kelly and Clara Fitzpatrick, while the club confirmed 22 re-signings this week.
Nicola Xenos, Ella Friend, Ash Richards, Alice Burke, Olivia Vesely, Tyanna Smith, Molly McDonald, Caitlin Greiser, Rebecca Ott, Bianca Jakobsson, Rosie Dillon and Darcy Guttridge join Patrikios in signing on for the next two seasons.