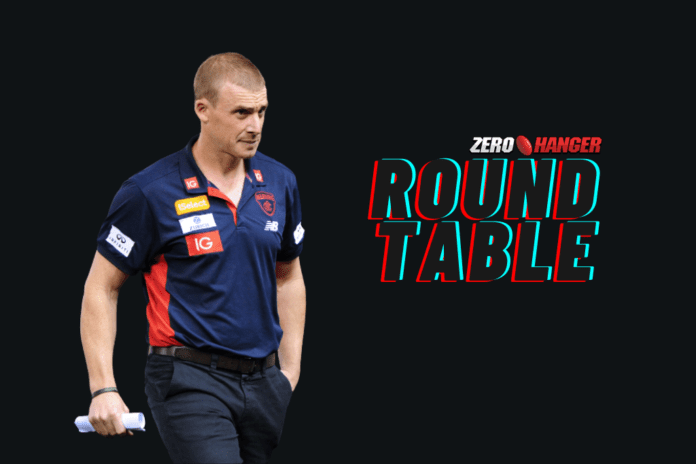 It's a debate that comes about every year. Do we need a winner and loser to every game or do draws have a place in the game?
It's a debate that came about again after Melbourne and Hawthorn played out a thrilling draw. Melbourne coach Simon Goodwin claimed that there should be a way to decide a winner and loser for each and every game.
"I think our supporters and fans would love to be able to see that. A winner and loser at the end of the day," Goodwin said when asked if a winner should be found.
There have been calls recently for perhaps a penalty-shootout kind of set-up to help enhance the drama and theatre attached with a drawn game.
There's a saying that goes along with a draw, "it's a bit like dancing with your sister." Implying it's not what anyone wants.
But tell that to Hawks fans. Many would be thrilled to have pinched a draw against the benchmark of the competition. Would it have been fair for them to lose that game in extra-time or in a shootout?
Penalty shootouts in footy? Wayne Carey says 'Why not?'

— 7AFL (@7AFL) July 17, 2021
Does a draw need any more theatre? Draws are already tense affairs and are very, very rarely not entertaining.
The Zero Hanger team give our thoughts below.
Jake Benoiton: Draws are good for the game. They are always great games and if no team can get over the line in the four quarters given, they don't deserve too. The two-points adds a complexity to the ladder which is fun and the game has had draws since its inception and it has never harmed the product.
A shoot-out idea is just silly. It doesn't reward the better team, it simply rewards the luckier team at that moment. It definitely isn't needed in the home and away season.
Extra-time is the logical fix but a fix isn't required. Draws are a fair result if neither team can get their nose in front by the final siren. They've had their chance.
Cameron Kellaghan-Tasker: I am in favour of draws, but only for the home and away season. Not because of tradition, but because I believe that it is a fitting outcome for a game of football. On the weekend, Hawthorn were able to put together an incredible effort from 17th on the ladder to draw with top of the table Melbourne.
Only being awarded two premiership points may have huge top four implications for the Demons. The ladder implications of a draw provide another added element to how the finals can look in which is great.
Harris Maglis: Nothing is worse when watching a game of footy than being left without a winner. Don't get me wrong, draws do have a place in the game but when September comes, extra-time isn't the solution.
If we've seen two teams slug it out over four quarters and still don't have a victor, playing more really isn't it, even if a result is achieved.
How much better would it be after a brutal game to have the score settled with a shootout, I mean 5 angles, the teams best kicker for each and let the cream rise to the top. This will not only add to the entertainment value come finals but will also reward players for practicing and executing set shots, a skill which clearly has fallen to the wayside in the modern game.
Ben Lawless: I think draws are good for the game and should stay (during the regular season). The tension and suspense they add to a game is exciting. They are this mini game within a game as teams need to not only be wary of losing but also of the draw. With goals being six points, draws create the 'handy points' that allow the viewers and players to know when teams are within the parameters of a draw.
Extra time would punish teams that have injuries/players down, also risking further injury for those left playing. Players would be heavily fatigued and have an increased likelihood of injuries the longer that play goes on. This fatigue will also reduce the quality of play with players either using up all their energy during the regulation time or saving something in the tank just in case there is a draw.
A penalty shootout style solution seems to go against the way results are determined, and would be too drastic of a change. It is also different to other sports where there is a goalkeeper that can have more of an impact on each shot. A person kicking for goal with someone standing still on the mark doesn't have the same drama and intrigue as a player trying to score past a goalie.
Mitch Keating: While a draw is one of many aspects that separates our game from others, I would not be opposed to having results decided by extra-time and then if needed, 'golden point', as we currently have formatted for finals.
A nail-biting draw can then be further moved into a higher gear, with the best players rising to the occasion of what would be more memorable finishes to matches.
I understand the argument to suggest both teams therefore deserve two points each in the result of a draw, but to see which side can last an extra 10 minutes after a ruthless four-quarter scrap can be a major talking point and tilt in one side's push for finals come season's end.