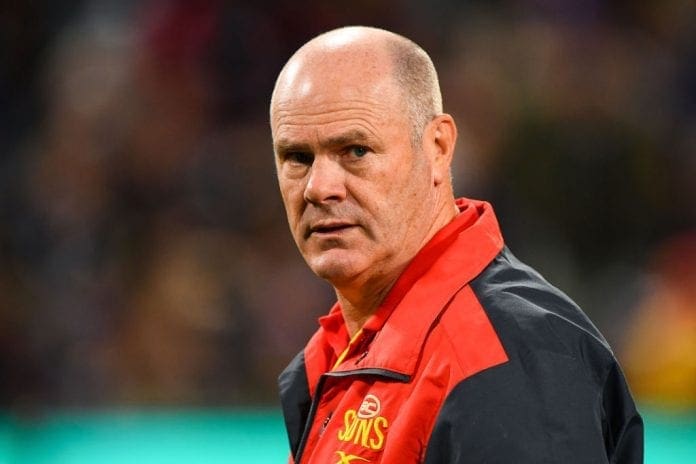 Rodney Eade has been in the AFL for the best part of 40 years, after an illustrious playing and coaching career.
Eade played 229 games for the Hawks between 1976-1987, and won four VFL premierships during his time at Hawthorn.
The 60-year-old then played the final 30 games of his career at the Brisbane Bears, and spent just five years in retirement before landing his first coaching job with the Swans.
Eade led the Swans in 152 games before taking charge of the Dogs for 162 matches, and then finished his career as the coach of the Gold Coast Suns, leading them in 63 games between 2015-2017.
Since he finished up coaching, Eade is now the Managing Director of Facing Change, a corporate speaking company dealing with change in the workplace, and building leadership and culture.
Eade also has a weekly podcast with Channel 7 reporter Mark Stevens called The Rocket Files, which can be found on www.rocketfiles.com.au, or on Eade's Twitter account, @facingchange26.
Eade spoke to Zero Hanger during the week, and gave us his tips for an exciting weekend of action!
Eade's Round 9 tips:
Adelaide v Western Bulldogs
"It's a tough one will all the injuries to Adelaide, but I'll go Adelaide at home, just. The Bulldogs don't travel well, but I wouldn't be surprised if the Dogs got up."
Tip: Adelaide by 11 points
North Melbourne v GWS
"I'm going to go with North Melbourne, they're in good form, play the Hobart ground exceptionally well, and there's too many injuries to GWS."
Tip: North Melbourne by 25 points
Gold Coast v Port Adelaide
"Port Adelaide to win. I don't totally trust them, but they had a great win last week, and that should give them enough confidence and belief now to charge forward. The Suns are struggling with their travel."
Tip: Port Adelaide by 45 points
Essendon v Geelong
"Essendon are in a bit of trouble, so I expect them to play better and improve, but the Cats are playing well."
Tip: Geelong by 31 points
Sydney v Fremantle
"Sydney to win. They haven't played well or won games at the SCG this year, but conversely Fremantle don't travel well. Even though (Nathan) Wilson and (Michael) Walters will be back, I'll go the Swans."
Tip: Sydney by 27 points
St Kilda v Collingwood
"Interesting one. The Saints' effort has been good, but they just can't kick the ball properly, so I'll pick Collingwood even though they've got their own injury concerns."
Tip: Collingwood by 15 points
Carlton v Melbourne
"Melbourne for me. I think with Jack Viney back, Tom McDonald in good form, it'll be tight early but the Demons will run away."
Tip: Melbourne by 37 points
Brisbane Lions v Hawthorn
"It's a tough one. The Lions have been playing okay for the baulk of their games, for three quarters in each match. They get let down at certain stages and have a bit of lapse in concentration, so I still think the Hawks even though they're away at the Gabba.
Tip: Hawthorn by 19 points
West Coast v Richmond
"Good game. I think with (Toby) Nankervis out and (Nic) Naitanui back, it throws the advantage back to the Eagles. With the Eagles at home and the dominance in the ruck, and (Jeremy) McGovern back as well, I'll go West Coast.
Tip: West Coast by 15 points