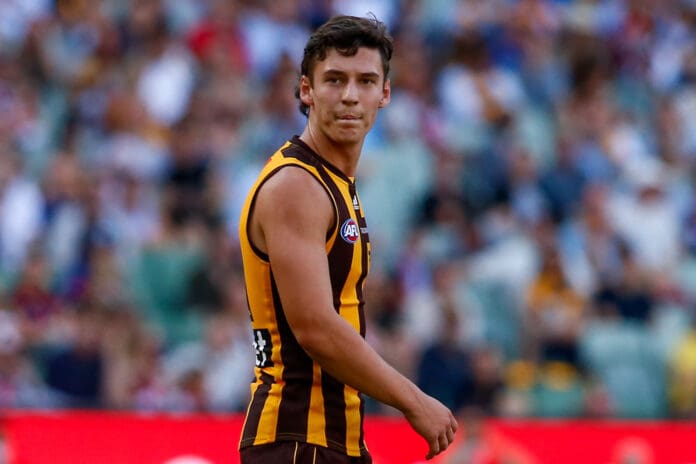 First-year Hawk Connor MacDonald is taking every round as a new chance to learn and hone his craft at AFL level.
The second-round selection from last year's National Draft was one of just three players from the 2021 intake to play all nine games to start this season, joined by Rising Star hopefuls Nick Daicos and Josh Rachele.
MacDonald has pressed his case as a mainstay in Hawthorn's best 22, even earning a place in midfield ahead of top Hawks draftee Josh Ward in recent weeks.
The pair have shown capabilities to tussle in the top flight early into their rookie campaigns as Sam Mitchell continues to lead one of the youngest brigades in the AFL this year.
This weekend will see MacDonald handed a rest from senior duties, a move Mitchell and co. had originally hoped for a fortnight ago before late changes and medical sub necessities led to a prolonged spree of appearances for MacDonald.
While the extensive reliance since Round 1 would place a toll on most first-year inside midfielders, MacDonald has seen the experiences as the perfect chance to adapt to the high intensity and demands of AFL football.
"I think the half-game definitely helped how I'm feeling now," MacDonald told Zero Hanger following his Round 9 stint as medical sub against Richmond.
"It was good to get on, play half, but ultimately [I'm] looking to play more full games and get more experience and exposure.
"They've definitely sort of managed the younger players. It's a very long season and I've only been involved in the system for a few months.
CONNOR MACDONALD
Midfielder

Hawthorn

2022 SEASON AVG

13.2
Disposals

1.8
Tackles

0.8
Clearances
"I think definitely getting a few rests throughout the season will only do my body good and help me down the track.
"The body's feeling really good, I've adjusted and adapted really well to AFL footy, I'm looking forward to playing more games."
Joining a sprightly nucleus that has turned some heads in 2022, MacDonald has been inspired by the young cohort of leaders that have taken this season by the scruff of the neck at Waverley.
With Mitchell looking to keep his squadron level-headed as they work through a tough winless past month, MacDonald has enjoyed the challenges that come with being the often-inexperienced contender most weekends.
"We're a pretty youthful and young team coming through, so it's really nice to experience the new level and new challenges each week with a younger group," he said.
"I feel like I can really relate to players that have come through and a couple years before me and now playing senior football every week.
"It's a very, very quick game, more physical and just a much bigger step up than under 18's football, but I feel like my work rate now really allows me to be able to adapt to the level and to feel comfortable playing each week and just look forward to continuing to get better with each week."
MacDonald has worked under the wings of young Hawks leaders James Worpel and Dylan Moore since stepping foot into Bunjil Bagora, with the pair acting as role models for the Doveton product.
The 19-year-old has shared his duties between the engine room and as a high half-forward in Mitchell's system across the opening nine rounds of the competition, with MacDonald able to study multiple facets of the game from some of the club's own emerging stars.
"He (Worpel) took me under his wing and sort of showed me the ropes," MacDonald said of his fellow midfielder. "He's been really good for me."
"He's still a young player, has played a lot of football early so I kind of bounce ideas and questions off him and talk to him a fair bit so I'm pretty close with him and Dylan Moore.
"I feel like I have a really good relationship with Dylan. We get along really well. I feel that as I'm playing that forward role a bit more, it's really good to bounce ideas off Dylan too and just to learn a new role.
"Those two definitely have been really inviting and welcoming."
Like MacDonald, Moore has split his minutes as a midfield-forward hybrid, mostly utilised in attack as his teammates heavily rely on his forward craft.
The balance is something MacDonald is coming to terms with, having been a 30-disposal onballer in his final year at the Dandenong Stingrays.
A role among Mitchell's attacking third is already showing a benefit for MacDonald, who has booted five majors so far this year.
"It's been really good for me and my development," he said.
"Purely, I was playing as a midfielder in under 18's football and throughout all my juniors, so it's been really nice to learn a new role, playing that high half-forward role and I think that my work rate really helps me to fit into that role.
"It's just adding another string to my bow and just that ability to be versatile and play different roles really helps me going forward."
While the current focus is on filling multiple roles where needed, MacDonald has found a new belief in his own midfield abilities, at time being relied on to match it with the league's elite in the middle of the ground.
While his centre bounce attendances are still small, the teenager is supported by a new wave of confidence every time he steps into a centre stoppage.
"I think going into that midfield and getting to a few centre bounces here and there only helps my confidence and ability to want to go in there more and play more football inside," he added.
"At the moment I'll just definitely take the opportunities I can get when I can go in there.
"I was a pure midfielder as a younger player, so it does feel really nice to get in there. I do like chopping and changing between that forward role in that mid roll too. So it'll be really good to keep battling against the league's best in there."
With the Box Hill Hawks due a bye for Round 9 in the VFL, MacDonald will earn a week's break before likely returning to the selection frame for Hawthorn's bout against the Gold Coast Suns in the Northern Territory next Saturday.