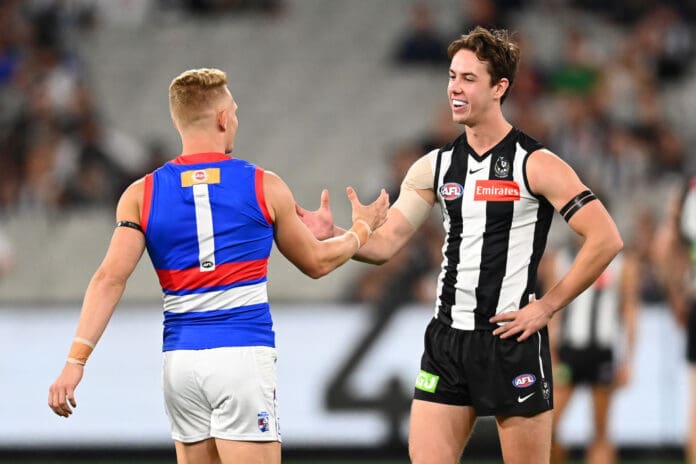 Collingwood pair Callum and Tyler Brown remain "in a bit of limbo at the moment" as they await contract calls for 2023.
Callum (24 years old) has played six AFL games in 2022, while his younger brother Tyler (22) has made 11 appearances, with both players set to come out of contract at the end of the year.
The father-son siblings face an uncertain time at Collingwood ahead of the trade period as reports surface there are no forthcoming deals on the Magpies' part.
"They're in a bit of limbo at the moment," AFL Media's Cal Twomey told SEN Breakfast.
"They're yet to receive contract offers for next year. Clubs are taking a bit of a look at them at this point.
"Collingwood has had a great season, they've been going so well, and their (the Brown brothers) respective appearances have been limited at senior level.
"Cal has played six times, Tyler's played 11. Cal's moved back recently to a more defensive role.
"A lot happening with the Pies this off-season, we know that. Dan McStay and Bobby Hill are likely to come, Jordan De Goey needs to make a call on what he does, Brodie Grundy is likely to be up for trade, and Ollie Henry still hasn't been given a deal.
"The Brown brothers are yet to receive offers. The family history is strong but they're out of contract and the season is winding up pretty soon."
Callum Brown will feature in this Sunday's VFL elimination final against the Blues at Victoria Park, while brother Tyler is currently unavailable for selection due to "fatigue related illness".
The duo are among a lengthy list of Magpies youngsters still unsigned for next season, joining Ollie Henry, Trent Bianco, Isaac Chugg, Will Kelly and Caleb Poulter.