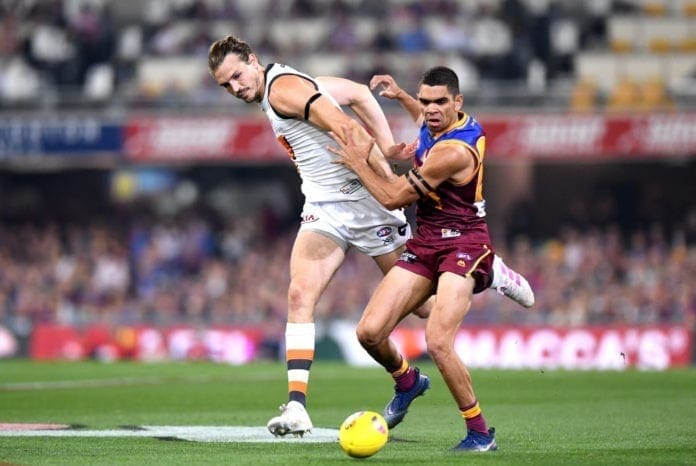 Nick Riewoldt has blasted the "spirit of the game" rule which was enforced by an umpire during Saturday night's epic semi-final between Brisbane and GWS.
Field umpire Shaun Ryan warned Giants defender Adam Kennedy that he needed to stop hitting and bumping Charlie Cameron's injured arm as it was against the "spirit of the game."
Cameron was dealing with an arm injury which he suffered early on in the first quarter, which even saw the All-Australian forward appear to tell trainers shortly after coming off that he wasn't able to execute a handball.
But since he was able to come back out on the ground and play out the game, Riewoldt believes players who come back on the ground should not receive extra protection.
"I don't subscribe to that. You're on the ground. I absolutely agree with if a player is injured and they're trying to get off, then you can't go after them. We all agree on that," he told SEN Breakfast.
"(If you come back on the ground) you're fair game.
"What if you come into a game with an injury, like a really sore hand or a cork. Does that mean you need to put a special coloured tape around it and go up to the umpire and say I've got a bit of a cork so can you just make sure no one goes after it, please?
"I hated seeing this on the weekend. I think this is a complete joke. That the umpire would warn a player that you're not allowed to do that to another player."
When told that the 'spirit of the game' rule was correctly adjudicated by the umpire, Riewoldt doubled down and said that the rule is wrong and should be changed.
"The law is wrong then. If you're coming back onto the ground, Charlie Cameron was still able to dish out bumps, I don't like the rule then," he said.
"If I was a player under any sort of injury cloud, I'd be going straight to the umpires and saying this part of me is sore, pay a free kick."
Riewoldt is arguably one of the better past players to give a point of view on the Cameron incident given he himself was part of a similar situation during his playing days, which involved the St Kilda legend getting bumped by Brisbane players after he suffered a collarbone injury.
Unaware he had a broken collarbone at the time, Riewoldt shrugged off trainers and decided to remain on the field where he was roughed up by the Scott brothers and Mal Michael in an infamous incident.
Despite this experience, which resulted in Riewoldt visibly crying on the bench afterwards, Riewoldt said they had every right to go at him, given it was his own choice to continue playing.
"I had no issue with it then and I had no issue with it now," he said.