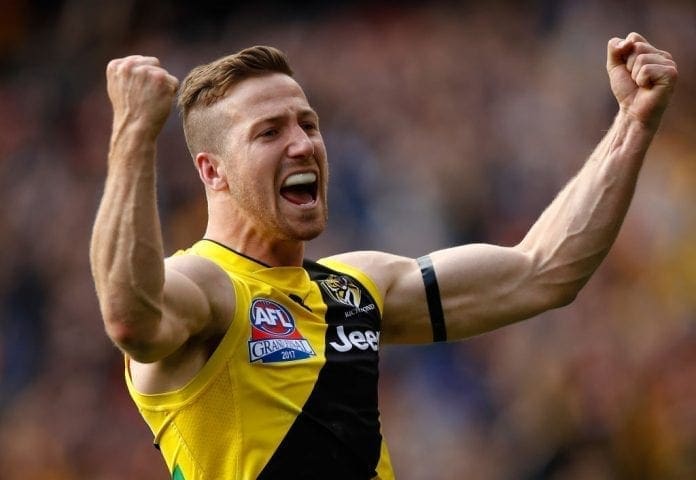 Richmond's Kane Lambert has announced his retirement from the AFL, effective immediately, after injuries limited him to just seven games in 2022.
The 30-year-old played 135 matches for the Tigers since his debut in 2015, including a key role in three premierships with the club.
Lambert made the announcement to teammates on Monday morning, revealing that ongoing hip issues were the main factor in him hanging up the boots.
"My purpose has been to prove people right, the people that cared for me and gave me their time and effort," he said.
"I am so fortunate to be able to thank those people."
"It is not what you win, it is who you win it with, and it has been an absolute pleasure to share this journey with all our players, staff and members both past and present."
Lambert joined the club as a mature-aged rookie in the 2014 AFL Rookie Draft, making his debut in Round 2 of the following year. A versatile midfielder/forward, Lambert has been a highly valued Tiger throughout his time at the club, finishing second in the club's best and fairest award in 2017.
https://twitter.com/Richmond_FC/status/1551415622344404992
Richmond coach Damien Hardwick praised the veteran, citing his dedication and resilience for his rise from rookie to three-time premiership player.
"What Kane has given us since he arrived at the footy club can never be repaid, but it can be learned," Hardwick said.
"Dedication, resilience and all the things we talk about needed to get the best out of yourself, this man has done it.
"The way he played the game; we changed things based around him and how Lambert would do it. Watching him on the field is like a masterclass for an AFL coach.
"Kane has given us success, but he has also given us some of the off-field stuff that is going to last a long time."