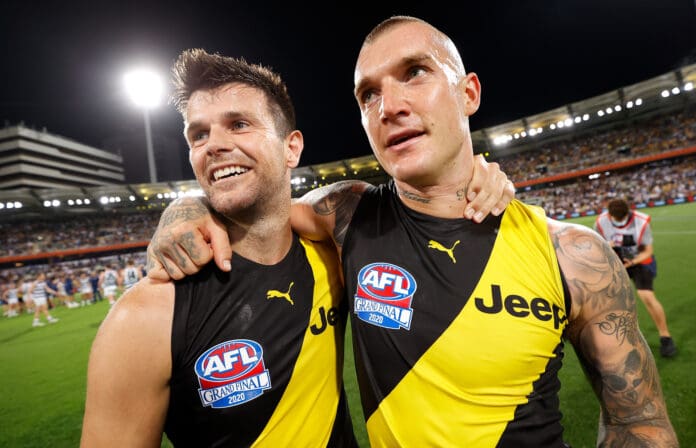 Three-time Richmond premiership skipper Trent Cotchin has detailed a panic attack he experienced in the days leading up to the Tigers' 2017 qualifying final against Geelong.
Cotchin, one of the fiercest players in recent finals series, led Richmond to three flags in 2017, 2019, and 2020, and is no stranger to the ever-building tension that is the bright lights of finals footy.
However, despite the undeniable leadership shown throughout his glittering career, Cotchin has shed light on a time of vulnerability, as he attempted to hide the emotions that finals football brought upon him and others alike.
Cotchin spoke on Channel 7's Talking Finals on Tuesday night about how he felt in the lead-up to Richmond's 2017 qualifying final against Geelong, and the pressure that surrounded him as the club's captain; particularly as he hadn't yet beaten the Cats throughout his career.
"Playing these guys (Geelong) in the 2017 qualifying final, it is probably relative to what some of the captains would be feeling this week," began the retired Tiger on Tuesday.
"(I) had three finals series previously unsuccessful (in 2013, 2014, and 2015) [and] hadn't really performed individually.
"Coming out of the
2024 Player Movements
2024 Gains


None
2024 Losses


None
Re-Signed


None
Off Contract 2024


None
meeting, I had this panic attack, a little bit of anxiety, and started to stress about having never beaten Geelong in my whole career. [I asked myself] What if that doesn't go quite right and what if I don't touch the footy, and [I] started telling myself all these stories.
"I called my life coach and sat down and settled the nerves but I think it's one of those things that you don't want to show anyone or [ever] tell anyone but it's just amazing what the psyche of finals and footy can do to any individual."
As cited by Cotchin, Richmond was bested by Carlton in his first final back in 2013, Port Adelaide in an Adelaide Oval belting in 2014, and North Melbourne back at the MCG in 2015. The 0-3 record wasn't a pretty look for the Tigers and Cotchin especially, as he was named captain in 2013 and was quickly subject to public scrutiny for his leadership.
Cotchin was also quizzed about his experiences being tagged in finals, noting the Geelong matchup in 2017 was a very different experience for him due to Richmond's array of talent.
"I had been tagged in two of those [previous finals games] and I felt like that is what was creating the pressure. I knew I wouldn't be tagged against the Cats because there [were] a lot of other players you would tag before me," he said.
"You can tag a player, but not a captain, and I knew there [were] lots of things that I could control that would impact the game that wasn't necessarily kicks, marks and handballs."
Week one of this year's tantalising finals campaign kicks off on Thursday night when Collingwood and Melbourne do battle at the MCG.
Collingwood WON BY 7 POINTS