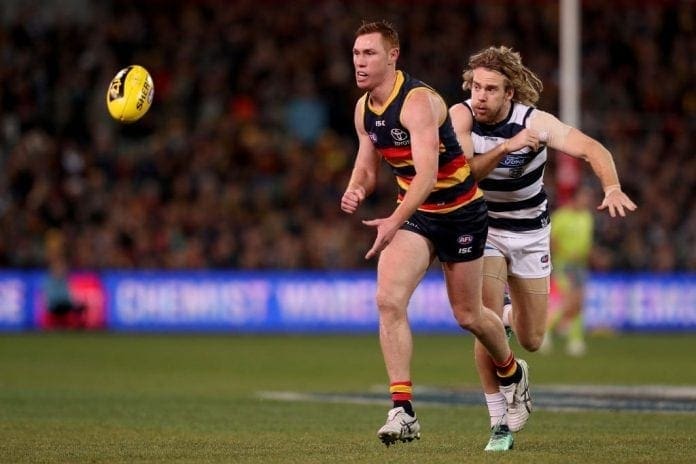 Former Crow, Saint and Roo Tom Lynch will sit at the helm of the North Melbourne VFL side after working his way up the ranks in roles as the development coordinator to caretaker coach at the back-end of season 2022.
After a 164-game career split between Adelaide and St Kilda where he amassed 203 goals in total, Lynch grabbed the opportunity to join the Kangaroos with both hands post-retirement from his short stint at Arden Street.
In a club statement, Lynch expressed his gratitude in being appointed in the new full-time role at Arden street, relishing the chance to take the reigns of the blue and white striped side.
"I'm just super excited to get stuck into it and start helping us move in the direction we want to go in," he said.
The 32-year-old spoke on the experience gained from working at the feet of his predecessor Leigh Adams, soaking up a wealth of knowledge after Adams was elevated to the top job in an interim capacity after replacing sacked head coach David Noble.
"Hopefully I can lean on a fair chunk of what I've learned as a player and the coaches that I've played under which will bring different qualities," Lynch said.
"We're in a really exciting time with the new AFL coach Alastair Clarkson, so just to be able to sit and learn from him and hopefully play a similar style to the AFL boys is going to be a really good experience."
Despite currently sitting in the off-season period, Lynch outlined his agenda with a set of objectives heading into the new year, stating "we're going to really look to make sure we get the best out of our players."
"If we can have a mirror image of what they do in the AFL system in the VFL it's really going to set our AFL-listed boys up to have successful games when they go into the (AFL) side and feel comfortable when they come back.
"At the same time, we're going to look to maximise potential and help our VFL-listed players reach their goals and aspirations, and to set an environment and program where they can flourish.
"We're really excited about making it a real one-club feel and that's something we've already started taking steps towards."
Lynch continued to note the importance of rest whilst also highlighting his readiness for the year ahead from a personal perspective, after benefiting from the short stint in the role towards the conclusion of last year.
"What I'm most excited about is the players' appetite to get stuck into pre-season and stuck into work - the guys have been seeking out a fair bit of training and have been doing a far bit of training together," he said.
"I'm really looking forward to starting back whenever that may be, we certainly need a break to refresh and get ourselves ready again, but at the moment we're just looking towards the summer and giving the guys the best chance to get themselves ready."
With a handful of losses currently to his name, including a number of narrow defeats after securing the job temporarily from Round 17 onwards, Lynch will be hoping to build on his one-win record in season 2023.