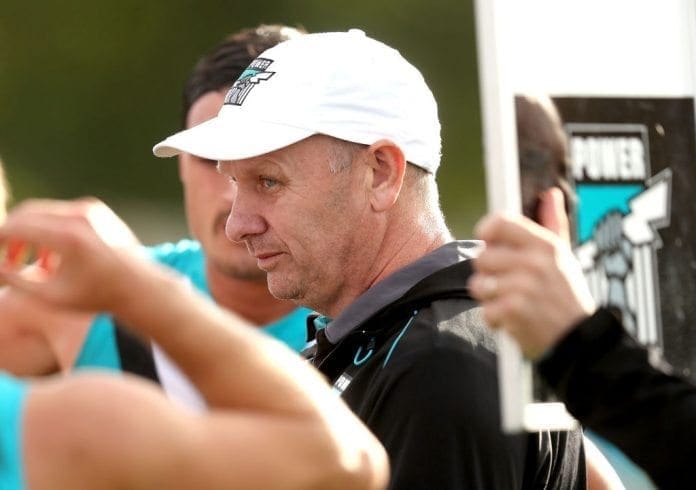 Port Adelaide star Ollie Wines has revealed that the Port playing group fully back senior coach Ken Hinkley, hoping he remains at Alberton beyond 2023.
Hinkley's current deal expires at the conclusion of the season and two early losses led to speculation that 2023 would be his last at the helm. Since those Round 2 and 3 losses to Collingwood and Adelaide though, Port have won three in a row, with St Kilda looming as their next challenge.
Speaking on SEN The Run Home, Wines said that the playing group were committed to Hinkley, expecting him to sign a new deal.
"We're fully in on Ken," Wines said.
"We know the club that we love will eventually commit to him because we're going to get results for him.
"We feed off a lot of Ken's energy, and his energy is fully in on us at the moment.
"We don't really look into that at all."
Port Adelaide president David Koch has previously stated that the club won't make a call on Hinkley's future until August, but Wines revealed that the playing group would be happy to see him ink a new deal before then.
"Yeah, certainly from our playing perspective it is," Wines said.
"But we're not the one to make the call on that.
"All I can say is we're 100 per cent committed to Ken as a group.
"We love what he does for us as footballers, as individuals and people off the field.
"I think we've always had full belief in what he leads us in and the game plan he's created.
"In the past year it's been a down year but that was probably down to us as individual players not playing to our potential, as opposed to our coaching.
"So this year, we want to get back to that top form individually and as the team.
"At the end of the day, that's what gets us wins and we'll rest on that."
Port Adelaide will take on St Kilda on Friday night at Marvel Stadium to kick off Round 7, hoping to improve their 2023 record to 5-2.