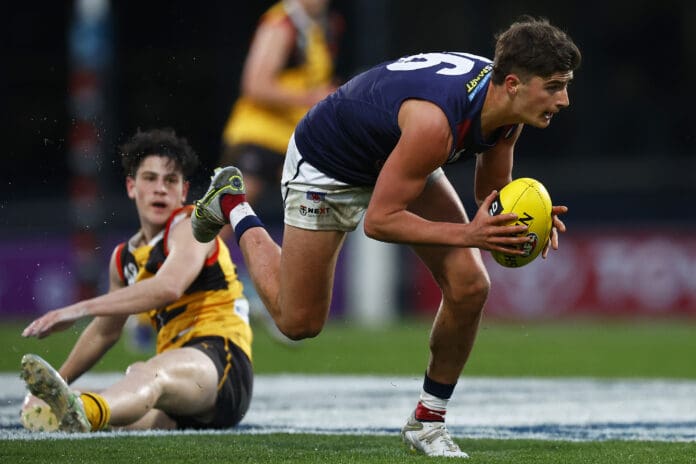 North Melbourne list and recruiting manager Brady Rawlings has given Roos fans an update on the club's recruiting strategy for this year's draft, outlining how the club's pair of blue-chip picks may be spent.
Speaking on a Member Q&A, Rawlings described the type of player the Kangaroos would be targeting with Picks 2 & 3.
"We're looking for good characters and competitors… they're certainly high up on our list," he said
"There's one thing to put your head over the ball and compete in the contest, but there's also that inner drive to come in and get the best out of yourself as a footballer and person.
"That competitiveness is integral to a footballer that we look for.
"Clearly, for different positions, you're looking for different attributes as well outside of their character and their make-up so that's when the skill level, speed, agility and cleanliness all come into how we assess different players in different positions."
Asked about highly rated youngsters George Wardlaw and Harry Sheezel, the recruiter was clear on his club's interest.
"They're certainly players that are in the mix for those top-end selections and they're players that we've been following since 15, 16 years of age," said Rawlings.
"We feel like we've got a really good handle on both of those players, and we've got them sitting right up there along with some other players that we're excited about as well.
"We'll need to sit there on the night and see who the Giants take with their pick (No.1) and our plan will be to take the next two on our order, but there are certainly four or five (players) in contention."
The Giants are expected to take key forward Aaron Cadman with their first pick after a Brisbane bid comes for Father-Son Will Ashcroft at Pick 1.
North Melbourne is poised to take their pick from midfielders Wardlaw, Elijah Tsatas, and dominant medium forward Sheezel.