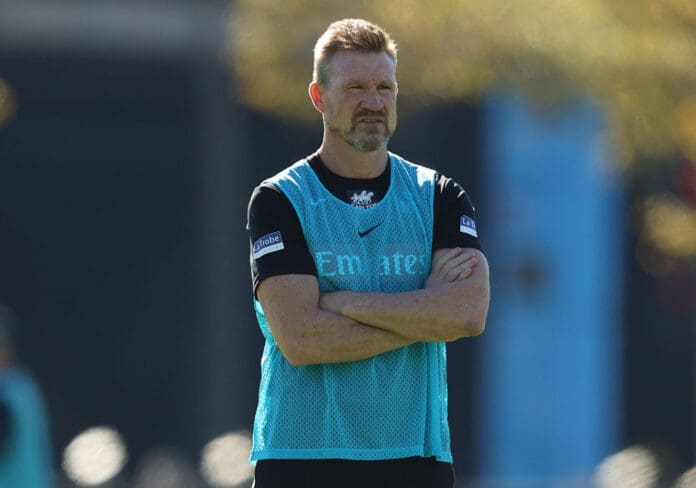 Out-of-contract Collingwood coach Nathan Buckley has revealed he is keen to continue his role next season.
Buckley is yet to sign a deal for beyond 2021 pressure is mounting following the club's disappointing 1-5 start to the season.
The Magpies coach said he believes he can be the man to lead Collingwood forward but will weigh up whether its best for both him and the club later in the year.
"Do I want to continue? Yes, do I want to coach? Yes. We'll have that conversation in the back half of the year, that's what I want to do," he told reporters on Wednesday.
"Regardless of what I want to do for Nathan Buckley, the only thing that matters is what's best for the Collingwood Football Club. The performances, growth, connection of the playing group and the environment of the football department is going to be part of determining whether I am the best person to be at the helm."
RELATED: Saints great Leigh Montagna urges Collingwood to make 'hard list management calls' and rebuild
Nathan Buckley confirms Jordan De Goey will return this week for the Pies @zerohanger

— Jake Benoiton (@Jake_Benoits) April 28, 2021
De Goey and Keane will return for the Suns on Saturday. pic.twitter.com/UYfZWgtK7R

— Collingwood FC (@CollingwoodFC) April 28, 2021
Buckley also spoke about the club's current position, saying every club is rebuilding in some capacity but refused to accept Collingwood were in the traditional sense.
"We all love labels. They make it easier to understand. I'd suggest we strip that away. We've been a competitive team regardless of lost profile."
The Collingwood legend said that he and the club were in agreeance on when they would discuss his future and admitted what's best for the football club must come first.
"Whatever transpires when we sit down and have that conversation which will happen probably two thirds of the way through the year, will be about what's best for the football club."
Buckley had a blossoming media career before entering the coaching sphere and many have speculated he could head that way again should he and the Pies part ways at season's end.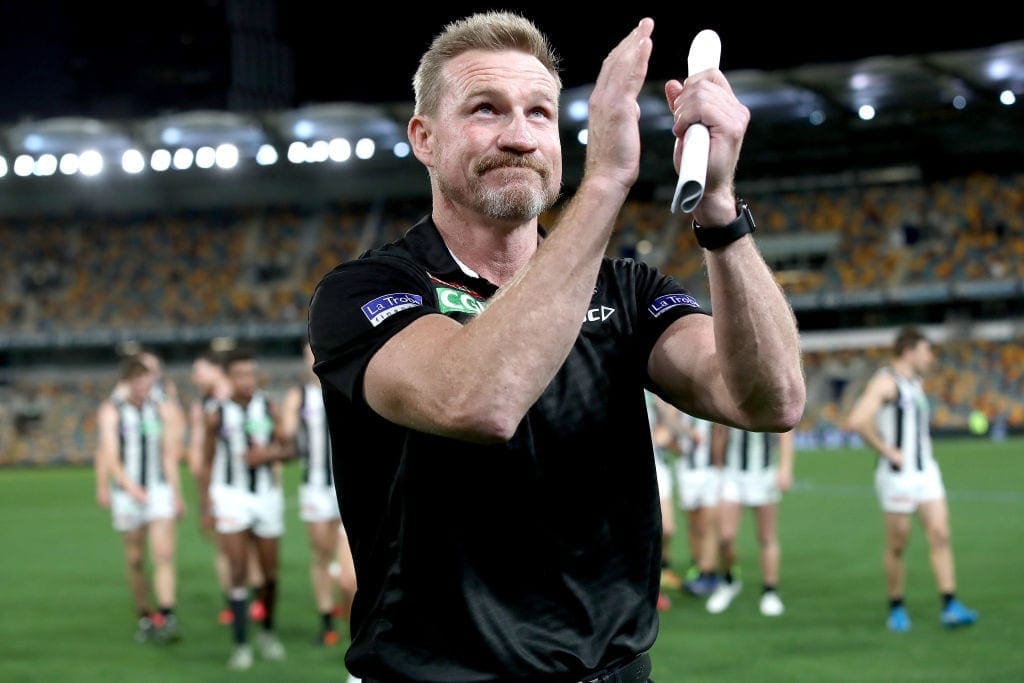 When asked about where his future outside of football lies, Buckley said that he will have that chat with close friends.
"They're bigger picture conversations and probably ones I'll have with mates over a couple of beers once a year. I love this club and I want to see it prosper and do well."
Buckley has been under pressure for his job before - in 2017 he was out-of-contract and facing the exit door before the club backed him in. The next year he took the Pies to within a kick of a premiership.
He admitted that while the journey hasn't always been easy, he still has tremendous passion for the role.
"I've been senior coach for 10 years and I've had hard days and I've had enjoyable days, I think the former outweighs the latter. My drive comes from seeing young men make the most of their opportunities and providing an environment for them to do so.
"10 years ago I wasn't as conscious what was going on around me, if you look back to 2012 and 2013 there was a bit of external dialogue going on then as well. When I look back they were hard yards so I'm not sure if enjoying it was the word upon reflection, enduring it was more the way."
Darcy Moore a confirmed starter in the Collingwood forward line with defender Mark Keane to return. @zerohanger

— Jake Benoiton (@Jake_Benoits) April 28, 2021
Buckley confirmed that Darcy Moore will again play forward this week despite having just 12 disposals and one goal on ANZAC Day, while the Pies will be boosted by the return of Jordan De Goey.
The Pies host the Suns at the MCG this Saturday at 1:45pm AEST.