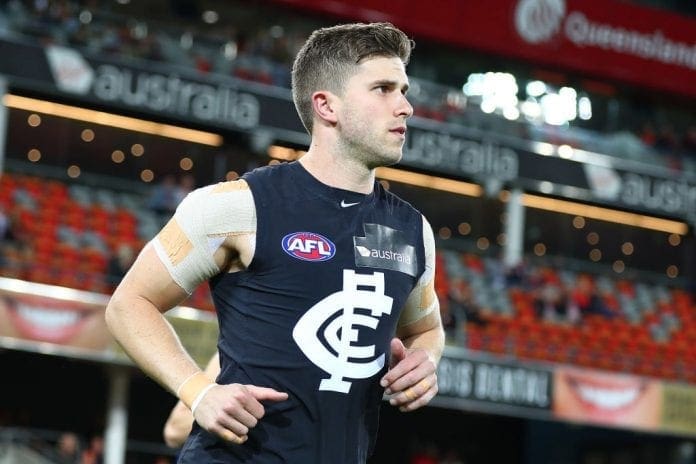 Marc Murphy will become just the sixth Carlton player to reach 300 games for the club when Carlton take on Port Adelaide in his final AFL game this weekend.
Murphy said on Tuesday that he will retire after his 300th game, saying that he felt 300 was the right number to finish up on.
"I announced earlier to the playing group that this week would be my last game as well," Murphy said.
A club captain, a club champion, a club man through and through.

Marc Murphy has informed the playing group that his 300th game this weekend will be his last. Thank you for everything, Murph. 💙

— Carlton FC (@CarltonFC) August 10, 2021
"To play 300 & finish on that note, for that to be my last game; I just realised before that we'll be wearing the white jumper, so I won't be wearing the navy blue one more time."
The Oakleigh Charger's product was taken with the number 1 draft pick in the 2005 national draft and has bled navy blue from that time on.
The former captain of the Blues reaches the milestone after being named as medical sub the last three weeks. But there can be no doubt he richly deserves the honour.
Murphy has been with Carlton in some of their darkest days and was skipper in some of the club's most trying times.
A true testament to the achievement Murphy embarks on this weekend is the ability to do so despite so many injuries.
Murphy's first season was derailed halfway through when Robert Copeland of Brisbane took aim and injured the NAB Rising Star favourite's shoulder.
He has also come off second best in brutal clashes with Patrick Dangerfield and Luke Hodge - two names which aren't to be dismissed - the latter seeing 'Murph' rock a helmet to protect a broken cheekbone.
Both of those incidents saw Murphy miss a serious chunk of footy. He also missed a large part of 2016 with a syndesmosis injury. But despite the heavy setbacks, the classy midfielder has persisted and now reaches the incredible milestone.
Murphy said that it was an honour and "humbling" feeling to now be listed alongside names such as Kade Simpson, Bruce Doull, Stephen Kernahan, John Nicholls and Stephen Silvagni.
"When you look at the names that have played 300 games for the football club it's obviously pretty humbling," said Murphy.
"The club has a really special place in my heart, so to be able to play 300 games here it's awesome.
"My family's really proud & speaking to the boys before it's a bit emotional reaching that milestone."
Murphy has been a constant in a time where Carlton has been somewhat of a revolving door for both players and coaches, with Murphy having worked under six full-time coaches in his time at the club.
The 2011 AFLCA Award winner said that he never really considered leaving the Blues to chase success elsewhere.
"I didn't really come close (to leaving), I never caught up with another club and discuss with any coach about an opportunity outside of Carlton," Murphy stated.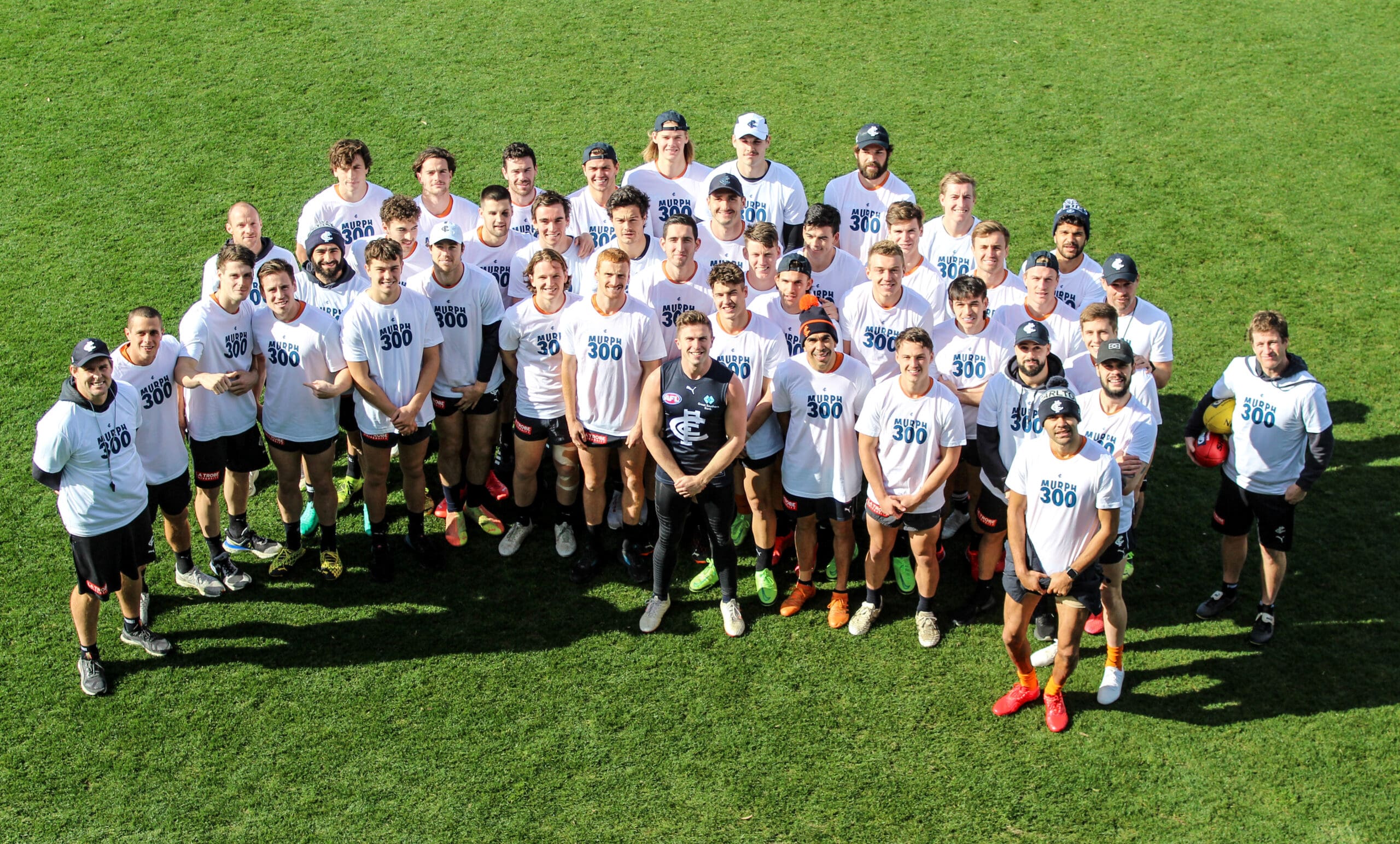 "There was a lot of talk a few years ago about me leaving but from my point of view, when it came to an opportunity to talk to somebody else it just didn't sit well in my gut and I knew from that, that I was never going to leave the footy club."
While the ultimate success has eluded Murphy during his career, he believes that his career has still been filled with plenty of highlights.
Murphy pointed out two big finals at the MCG against the Bombers and Tigers across past seasons.
"The two (highlights) that are pretty vivid in my memory are the finals I played at the 'G' against Essendon and Richmond," Murphy recalled.
"They were two winning finals and I can remember a lot of things that occurred in those games and some of the feelings are still really fresh.
"Especially against Essendon, having the whole Southern Stand singing the Carlton theme song in the last quarter was something that was really special."
Murphy was almost single-handily responsible for getting the Blues into the 2013 finals series after an incredible captain's performance led the Blues to a come-from-behind victory to secure their place for the next week.
Six goals down and needing a win to secure a finals berth, we needed some inspiration against Port Adelaide back in 2013.

Enter Marc Murphy.#BoundByBlue

— Carlton FC (@CarltonFC) March 29, 2019
The veteran said while he played the game for team glory and success, there were a few cheeky individual highlights that stood out in his memory now that he has called time on his career.
"I didn't mind selling candy and kicking a banana from the boundary every now and then," Murphy chuckled.
"The one a few years ago against Fremantle when it was 30 seconds to go, to kick that was pretty special and looking back at some the videos that pop up is quite good to look back on.
"From kicking those to sharing it with your teammates is what it's all about. There's some pretty nice moments to look back on."