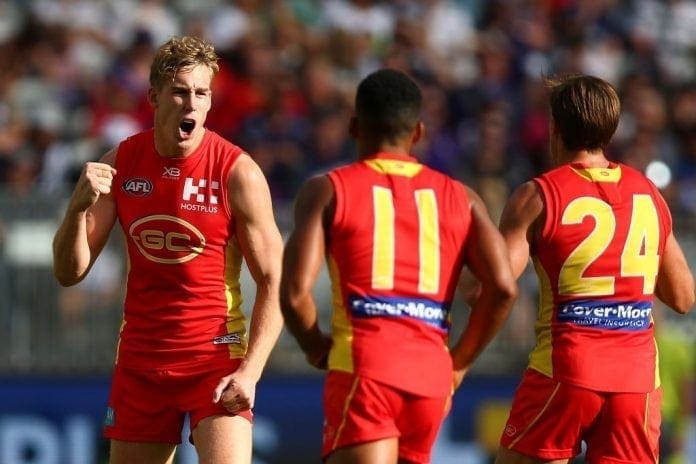 Touk Miller has opened up on a frank conversation he had with former Gold Coast captain Tom Lynch, upon Lynch's departure from the club in 2018.
In an upcoming interview with Fox Footy's Face To Face program, Miller detailed the time of Lynch's highly publicised exit from the Suns - indicating that senior figures at the club weren't happy with their captain publicly meeting with other clubs in a bid to exercise his free agency rights while the Suns struggled on-field.
The tension culminated in a players-only meeting where Miller reportedly called Lynch's character and commitment to the club into question, assertions which the All Australian opened up on in the upcoming interview.
"To paint the picture, it wasn't a great time for the Gold Coast and we were suffering a bit of hardship," Miller told Face To Face. 
"Tommy's gone on to do some other things and win premierships with Richmond – that does hurt a bit. But in saying that, I still stand by (my actions).
"He obviously didn't want to be with the Gold Coast and I think for us, we needed players and we needed people that wanted to stick fat with the Gold Coast and see it out.
"I just felt like at the time that was the necessary thing to say and do – and I think we're in a really good position now.
"Not to take anything away from Tommy – he did a lot of great things for our football club – it was just probably the timing of when all that happened made it a lot harder for the club.
"But we're probably better for it in terms of what we're doing now and I think it painted a bit of a picture for where we want to go.
"He obviously was seeking success and we probably weren't in the spot that we needed to be in where he was going to get that straight away … But for guys like myself, David Swallow, Jarrod Witts, Rory Thompson – blokes who have actually been there for quite some time now – (we) really want to see success for this club. (When that happens), I think it probably tastes a little bit sweeter."
Lynch went on to be an instrumental part of Richmond's 2019 and 2020 premiership wins, also toping Richmond's goal tally in his first year at the club.
Face To Face will air at 8.30pm (AEST) on Tuesday night on Fox Footy.