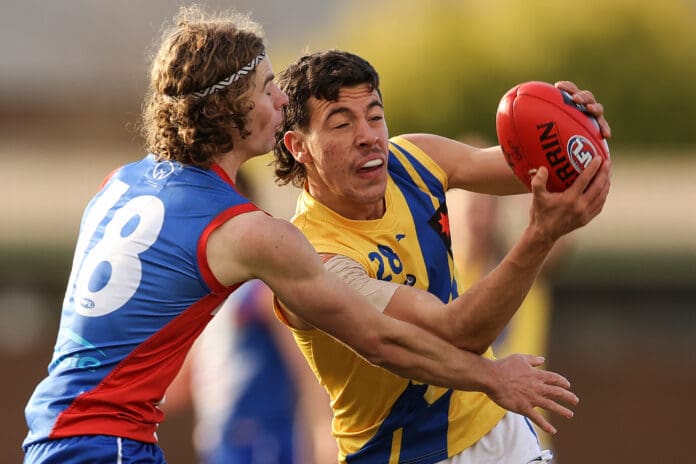 Mid-Season draft hopeful Massimo D'Ambrosio has suffered a shoulder injury in the VFL, just days out from the draft.
The Western Jets defender has been in impressive form for Richmond's VFL side and in the NAB League, catching the eyes of recruiters at several AFL clubs.
The young jet averaged 27.7 disposals across his four NAB League matches and has drawn comparisons to Bulldog Caleb Daniel for his impressive disposal and run across half-back.
D'Ambrosio's manager Jamie Pi spoke to the Herald Sun on Sunday, remaining confident that the 19-year-old's injury isn't overly serious.
"We are cautiously optimistic it's not the worst-case scenario that requires time on the sidelines, but obviously we won't know until tomorrow," he said.
"He had scans up in Sydney so the results are due (on Monday). We don't think it's as bad as it looked. Clubs aren't looking at picking him up to play in the next two or three weeks, he's a quality player with a lot of upside so we are still very optimistic he will get picked up. Most clubs are still looking at him as a longer-term prospect."
"He is a flying half back with a prolific left foot. He doesn't mind taking a chance with his kicks and he nails most of them. He fits the modern game and with his lower centre of gravity he's like a cat when he's at ground level."
"Clubs are comparing him to Caleb Daniel but he's a bit taller. All we can say is we are optimistic but we won't know until his name is read out."
READ MORE: THE BEST MID-SEASON DRAFT PROSPECTS FOR YOUR CLUB
"At one stage it looked like there might be only six or eight picks. Last year it was all about ruckmen but clubs are keeping their cards really close to their chest.
"(D'Ambrosio) has done fantastically well and it's a reminder to every kid who has overlooked that you brush yourself off and prove everyone wrong.
"He has good pace and he's a very smart ball winner and good user. He has thickened up a bit in the body over the last year and he's stronger. He just oozes self-confidence and he's in good form and has had some continuity compared to last year."
Richmond, Hawthorn, Sydney and Geelong have all shown interest in the young defender.
The Mid-Season Draft gets underway on Wednesday June 1.