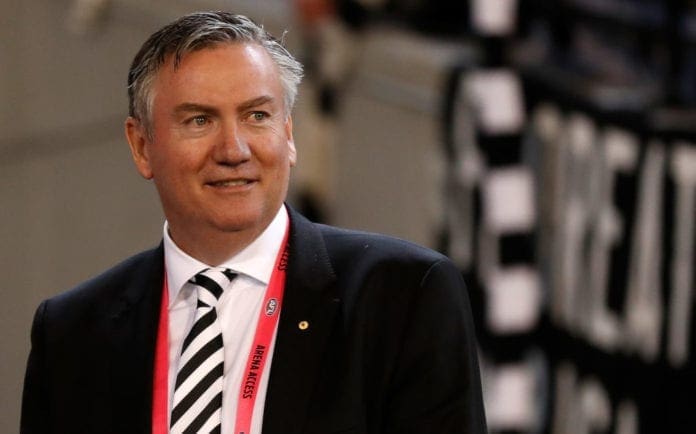 Former Collingwood president Eddie McGuire believes that he can see 20 teams in the AFL by 2028, one of which including a team in Tasmania.
McGuire proposed a blueprint for an expansion on Footy Classified on Wednesday night, declaring that the time is now for the Tasmanian Government and state premier Peter Gutwein for an AFL team in the 'Apple Isle'.
"The time has come for all parties promulgating a team in Tasmania to put up or shut up," he said.
"The AFL cops it whichever way it goes, politicians make unrealistic demands, clubs don't want to take any more hits while still trying to get through COVID-19."
McGuire also added that for Tasmania to have an AFL team, it comes with some caveats.
"From this year, you need to contribute not $10m, but $20m per season indexed forever, you also need to hit the Federal Government up for a further $20m," he said.
"The AFL will be in for a similar amount and you will need to find $10m-15m in commercial profit to make this work.
"In the next six years you (Tasmania) need to declare you are all in for AFL men's and women's football.
"You are averaging two (draftees per year) at the moment… Sandringham Dragons average six from their catchment area.
"You need to decide where your ground is and to get a gold star your state needs a stadium with a roof on it."
McGuire's radical plan for the league going forward includes a proposal for one team to be Tasmania's 'breakthrough' side until the team takes to the AFL in 2028.
"The time has come for all parties promulgating a team in Tasmania to put up or shut up."

Eddie McGuire has revealed his detailed plan to establish a team in Tasmania and ensure it is sustainable long into the future.#9FootyClassified | Watch @Channel9 pic.twitter.com/lO8P3ePbPp

— Footy on Nine (@FootyonNine) April 7, 2021
"Let's say it's North Melbourne. I propose that North Melbourne play four home and four away games in Tasmania until 2028," McGuire said.
"They then get 12 games in Melbourne and play two interstate, members would receive free KAYO (deals) and deals to travel to Tasmania.
"Four away games come from AFL assisted clubs… One game per year a blockbuster versus a big club with a full festival of football scheduled in Tasmania with (AFL) Commission/President's meetings, media relocation and symposiums to generally show we love them and are building something fantastic.
"At the end North (would be) seen as a great contributor to the competition, they get as many games in their home city as every non-Victorian team and their future is assured."
Kane Cornes has highlighted his concerns on SEN SA Breakfast, questioning whether or not the league has enough talent to sustain another two sides.
"We're seeing North Melbourne look like they can't win a game of footy and you'd question how some of these AFL players, with all due respect, are getting a game on an AFL list," he said.
"We saw six games decided by 30 points or more. If you had two more teams, are we getting to three or four games per round that no one cares about and everyone switches off?
"Can a country like Australia with our population sustain 20 AFL teams with the talent that we've got at our disposal… right now you'd have to say probably not."
McGuire proceeded to discuss that a 20th side would be soon be handed an AFL license to make the league a nation-wide competition.
"The AFL Commission has a once in a lifetime opportunity to finish the job and have the only real national competition in Australian sport," McGuire declared.
Former AFL chief executive Andrew Demetriou, who was a member of Footy Classified's panel on Wednesday, supported McGuire's concepts of adding in a 20th side shortly after the berth of a Tasmanian club.
"If you are to have a 19th team, it is incumbent upon Tasmania, the state and the AFL and other stakeholders to work towards a 20th team," Demetriou
"You work towards getting a 20th team and you get a 10th game on the roster and the 10th game will be worth something to broadcasters, it would help support a 19th term in Tasmania.
"But I just don't think there is the stomach, that there is the will of a team to be relocated in the first place. I think that's going to cause a lot of issues for whoever that club may be. And I think in the heart of hearts, Tasmania would prefer their own team as they should."