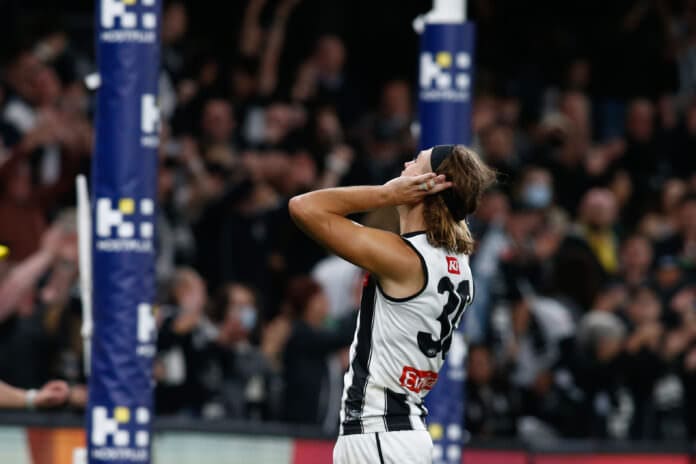 Collingwood has released an official injury update on ailing skipper Darcy Moore.
Moore sustained a hamstring injury during the Pies' eight-point win over Geelong at the MCG on Friday night.
According to the Magpies on Saturday, Moore suffered a low-grade hamstring injury and will miss Collingwood's remaining two games of the home and away season.
However, the club expects its captain to be available for the Magpies' first final.
Collingwood General Manager of Football Graham Wright revealed the latest on Moore on Saturday via a club statement.
"Darcy underwent scans on his left hamstring this morning and the results have shown a low-grade hamstring strain which he sustained during the first quarter of last night's game," Wright said.
"He will miss the next couple of matches, and at this stage, we expect him to return to the field for our first final.
"Darcy is an ultimate professional and will work closely with our medical team who will support him through his recovery.
"While we will miss his on-field leadership over the next couple of weeks, his absence provides an opportunity for another player on our list to make an impact."
Pies coach Craig McRae addressed Moore's hamstring injury post-game on Friday, stating his initial 'understanding' was Moore's hamstring ailment is a 'neural-type' of injury, noting he thought it was 'not major' pending Saturday's scans.
"Well, my understanding is he's tight [and it's a] neural-type hamstring," started McRae on Friday.
"He'll have to scan it obviously, we'll have to wait and see the scan. My understanding is it's not major but we'll wait and see."
McRae initially didn't appear worried about the prospect of Moore missing the remainder of the home and away season, stating it 'shouldn't be a concern'.
"No, my understanding is that (missing until finals) shouldn't be a concern but again, we've got to wait until the scans show the damage is and what's there and, yeah, we'll have to wait and see," said McRae.
"He's [in good spirits], he (Moore) goes 'I think I'm fine'. Again, until you really know, you don't know. But yeah, our instruction was it's a tight hamstring and [it was] quite neural and wouldn't release, so we'll see what comes."
The result means Moore will miss the Magpies' closing matchups with Brisbane and Essendon in Rounds 23 and 24, respectively.