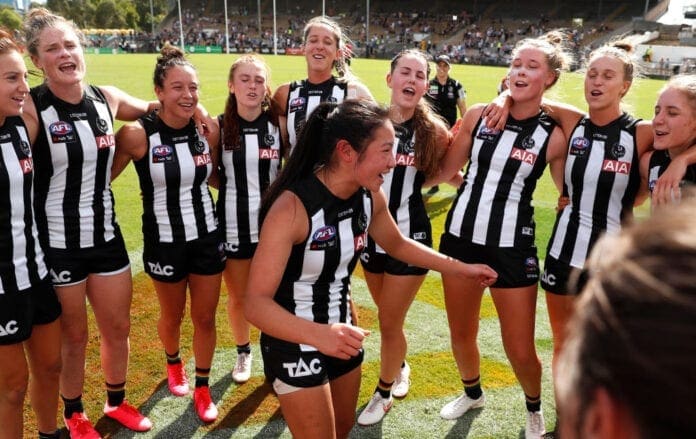 Collingwood AFLW teenager Joanna Lin has revealed the club suspended a fan's membership following a racial slur that was directed at her during draft night last year, per The Age's Daniel Cherny.
Lin joined the Magpies from the Oakleigh Chargers with the 26th overall selection in the 2020 draft and has since impressed during her time in the black and white stripes.
The 18-year-old made her AFLW debut in Collingwood's 29-point victory over Geelong at Victoria Park in Round 2 and booted her first career goal on Sunday in the club's victory over Richmond.
Lin, who's parents immigrated to Australia from Taiwan, was subjected to a racial slur from a Magpies fan during a night that was meant to celebrate the start of her professional career.
"On draft night, I got abused. That was dealt with very quickly. That was good by the club," Lin told The Age.
Magpie Joanna Lin has revealed Collingwood suspended a fan's membership after the teenager was subjected to a racial slur on social media the night she was drafted last year.https://t.co/MzsjxYAoC8

— Real Footy (AFL) (@agerealfooty) February 15, 2021
"In the comments, this lady was just saying that I shouldn't be playing because I would give the club the virus. I just laughed at it all. Because it was just not true at all. I'm not Chinese, and I definitely won't give you the virus either."
Collingwood confirmed to The Age that the fan had their membership suspended as part of the club's protocols into similar incidents.
A Collingwood fan growing up, Lin idolised club greats Dane Swan and Alan Didak and has reaped the rewards from her efforts since joining her favourite club.
"It's been awesome [to play]. It's been unreal really. Especially with the first game, that was definitely unexpected," she said.
Q2 | HOW GOOD!!! 💕Jo Lin gets her first #AFLW major on the board!

The Pies now lead by 18-points halfway through the second term.

⚫⚪ 24
🐯 6#gopies #AFLWTigersPies pic.twitter.com/dUJqBcm9gD

— Collingwood AFLW (@CollingwoodAFLW) February 14, 2021
"I had it in my mind that not a lot of draftees play in their first year but I definitely pushed myself to be able to be selected early on."
Speaking on her heritage, Lin said it has since become an honour to be one of the first Asian players to compete at the elite level.
"At first I didn't really think much of it, but recently I've got a couple of tags from people saying how good it is. I'm starting to realise it more, now," she said.
While it is unclear if the incident was part of the recent "Do Better" report confirming systemic racism within the club, it is another episode into a damning past month for the Collingwood Football Club that has seen President Eddie McGuire announce his resignation.
Collingwood's AFLW side will face North Melbourne this Saturday in hope of adding to their perfect 3-0 start to the season.
You love to hear it! 😍 pic.twitter.com/ZHkFJUDYuh

— Collingwood AFLW (@CollingwoodAFLW) February 14, 2021