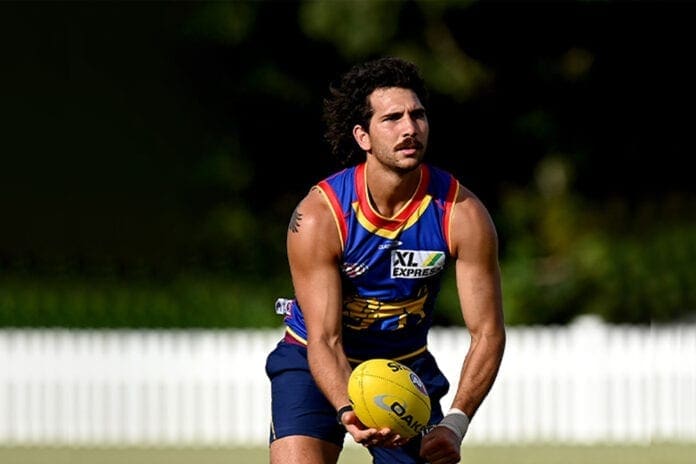 Brisbane have announced new deals for duo Nakia Cockatoo and Noah Answerth.
Cockatoo, who joined the Lions from Geelong at the end of 2020, has re-signed until the end of next season, with the exciting forward-midfield utility looking to extend his seven-game tally with Brisbane.
The 25-year-old endured a luckless run of injuries across his time at Kardinia Park, with the Lions set to unleash the Northern Territory product after a patient approach with his health.
Cockatoo stated his delight to have extended his contract with the Queensland club until the end of 2023.
"I'm just really excited,'' he said.
DOWNLOAD YOUR COPY OF THE 2022 AFL SEASON GUIDE 
"It felt like last year I was able to get some consistency back in my training and it really felt good to be able to build my form in the VFL and it gave me a lot of confidence to be able to work my way into the senior side.
"I feel really positive about what lies ahead, and I am really looking forward to the next two years and improving on my game.
"It is a great place to be, we've got a good squad of players here, everyone chips in and I feel like there is a great work ethic at this Club.''
Answereth has signed a new three-year extension that will tie his services to Chris Fagan's cause until the end of the 2024 season.
Like Cockatoo, Answerth has battled setbacks across his young career, having missed the entirety of last season due to a groin injury.
The 22-year-old has shown plenty of promise in defence across his 28 matches at AFL level, with Answerth excited to continue his tenure with Brisbane.
"Coming in as late draft pick and the club having faith in me to select me really meant a lot to me and then again with the support they gave me while I was injured, so I was happy to re-sign'' he said.
"I love it here, I love coming to work every day, it's a great environment and I wouldn't want to be anywhere else.''
Both Cockatoo and Answerth will challenge for places in Fagan's Round 1 planning as they host Port Adelaide at the Gabba next Saturday night to begin their 2022 season.