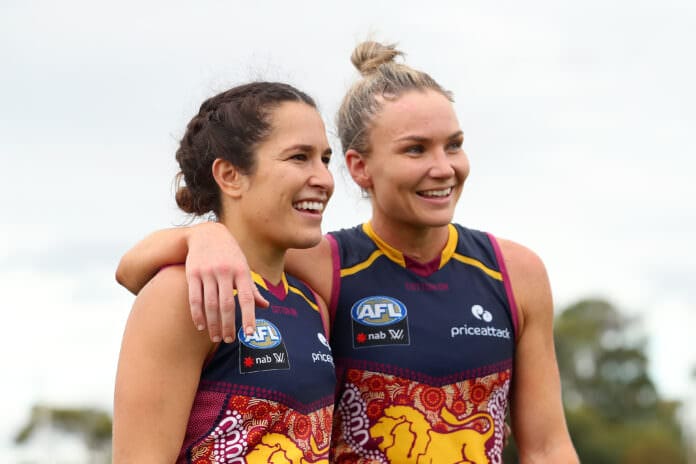 A seven-vote finish to her season has seen Lions midfielder Emily Bates secure the 2022 AFLCA Champion Player of the Year Award, edging out Crow Anne Hatchard and Roo Ashleigh Riddell for the honour.
Both Hatchard and Riddell amassed perfect 10-vote games in Round 10 to tie in second place on the season leaderboard, with Bates' strong performance against the Bulldogs on Sunday giving her a six-point buffer to claim the award.
Having averaged 21.7 possessions, 5.6 clearances, 6.9 tackles and 306 metres gained for the year as Brisbane landed a third-place finish, Bates was deservedly crowned as the competition's best player in the eyes of the coaches.
Bates polled 74 votes for the season, a tally that included six best on ground performances.
Speaking to the AFLCA, Lions coach Craig Starcevich expressed his delight to see the 26-year-old honoured for her place in the game.
"It's great to see Batesy's talent and professionalism recognised in this way," Starcevich said.
"From where we stand, she's the epitome of the Brisbane Lions in how she prepares and how she plays.
"She's second to none in her professionalism and the way she goes about playing football, and she's really been able to showcase that on field this season with the performances she's produced."
The accolade adds to Bates' decorated career as an inaugural Lion, having already won two All-Australian selections, a best and fairest, and a premiership in her six seasons with the Queensland club.
Joining Bates, Hatchard and Riddell among the top five vote-getters were Adelaide ball-magnet Ebony Marinoff and Bulldogs star Kirsty Lamb, who polled 60 and 56 votes for the year respectively.
AFLCA Champion Player of the Year votes
74 Emily Bates BL
68 Anne Hatchard ADEL
68 Ashleigh Riddell NMFC
60 Ebony Marinoff ADEL
56 Kirsty Lamb WB
55 Monique Conti RICH
52 Ellie Blackburn WB
51 Jaimee Lambert COLL
50 Hayley Miller FRE
42 Jasmine Garner NMFC
42 Amy McDonald GEEL