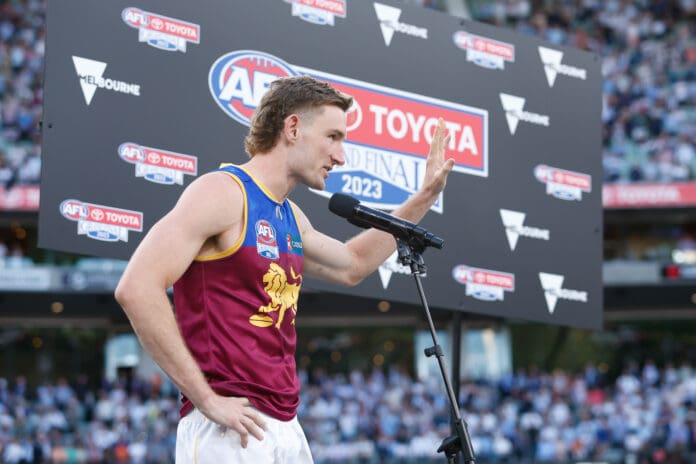 Brisbane co-captain Harris Andrews has offered comment on the contentious advantage free-kick which was paid late in the Lions' four-point grand final loss to Collingwood.
Deep into the nailbiting affair, Andrews' sidekick, dual Brownlow medallist Lachie Neale, was legged by Magpie Oleg Markov as the Lions sought to thrust the ball inside 50 for a game-winning shot on goal.
However, instead of calling the ball back to allow Neale to kick over the mark, on-field officiators called advantage on the play, forcing Brisbane's Zac Bailey to kick forward blindly before the Magpies' back-six repelled the ball, allowing teammates up field to hold possession and ice the clock.
While calls from the outer, and in the commentary box, stressed that the Lions had been dudded, Andrews was unwilling to offer much post-game, instead pressing that the pain of defeat would act as fuel for next season.
"To be honest, I didn't see too much of it, I was just worrying about myself and trying to get my job done," the star defender told News Corp.
"I'm not going to go into it."
Though an off-season period of rest and recuperation awaits Andrews and comapny, the decorated stopper claimed that his men would take plenty from the defeat, with the Lions set to run a fine-toothed comb through the narrow defeat.
"I've got no doubt we'll watch the tape," Andrews added.
"We're not going to push this under the rug. We're going to break it down – as we have every year at the end of each season - and recognize where we've fallen short and what we can do better to come back next year in better shape."
Echoeing the sentiments of his head coach, Chris Fagan, Andrews claimed that bravely facing the lessons from the loss, rather than letting it consume them, would hold Brisbane in better stead for the 2024 season.
"We're obviously really hurt from this but we'll come back next year with a bit of fire in our belly," Andrews pressed.
"The boys need to soak that up; know what that feels like and use that to power them.
"We've shown in years gone by - straight sets in finals, disappointments in preliminary finals - we've acknowledged that we've fallen short and been able to steer our own journey.
"If we push this under the carpet … it will lead us to a bad place.
"That's what this group has done really well, driven by 'Fages, is our ability to learn from our mistakes.
"It will take a little while to sink in but we'll come back ready to go and make sure we're fit for pre-season."
The grand final defeat was Brisbane's second since merging with Fitzroy ahead of the 1997 season, taking the club's AFL-era tally to three wins and a pair of defeats.