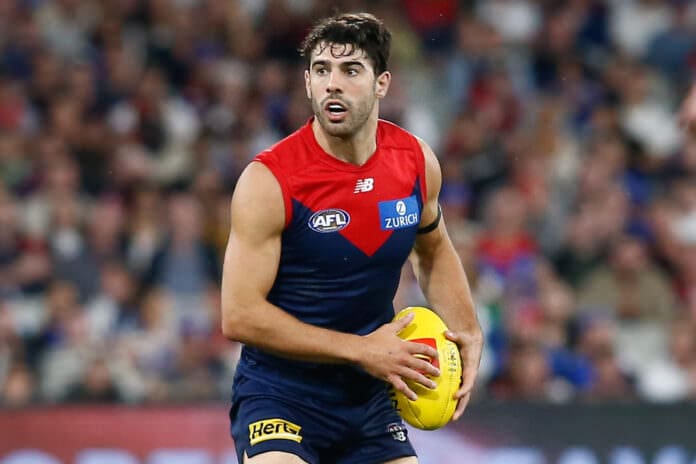 Collingwood captain Scott Pendlebury has warned hampered Melbourne star Christian Petracca he may only do more damage to his broken leg should the Demons give their bullish midfielder the green light to play this week.
Melbourne have hinted Petracca is likely to line up against the Lions at the MCG on Friday night, just seven days after suffering a hairline fracture on his fibula.
The injury is one similar to an ailment Pendlebury suffered several years ago, with the Magpies veteran stating the pain felt like "someone is sticking a knife in the back of your calf".
Speaking on Triple M, Pendlebury spoke on what might've gone through Petracca's mind whilst carrying the injury, revealing the injury feels like a significant cork.
"I've broken my leg or both legs twice. I've had a hairline fracture. I think it's similar (to Petracca's)," Pendlebury said. "It felt like a really bad corky.
"One of the boys was saying in the game when they saw him start to rub it (that it might've been broken) because he kept reaching for something that wasn't there.
"And I know that feeling. You're reaching, you're looking thinking that's a corky but it doesn't feel like a corky because there's no big contusion there.
"(The pain) drops off significantly. I did mine and then I actually played it until halftime and then I got subbed out because we're winning by about 10 goals.
"I was as shocked as anyone when it came back with a crack at the top of my bone.
"And then I tried to sort of plead with the doc. i was like 'look, I don't feel any pain, I can train fully', and I tried to prove it to him but he was like 'you need to just give this time to heal properly'.
"...Every step you take you'll feel like someone is sticking a knife in the back of your calf.
"I'm assuming Saturday he would have been really sore.
"It'll be interesting to watch to see if he plays this week or has a week off and hopes they can get it done without him."
The Demons and their medical staff now have a decision to make, however have revealed they are confident the Norm Smith medallist will be right to play.
Signed to the Demons until the end of 2029, Pendlebury noted the significance of the risk the Demons would be taking to name Petracca against Brisbane, with the chances of a 12-month-long injury now heightened.
"If this was American sports, this is your franchise guy, who's on a seven-year deal," he said.
"The risk verse reward right now is something that they have to weigh up, because what happens if he gets another hit?
"Their doctors will obviously take all this thing into account... You've got to protect the player from themselves. No player is going to say I'm not right to go.
"The worst thing possible is if he got a similar hit, and then it was a worse injury. Heaven forbid he had to miss six months or 12 months."
The Demons won't name their 22-man side until Thursday night as they begin planning to keep their premiership defence alive.
The club are also monitoring knee issues for both Jake Melksham and Bayley Fritsch, while small forward Charlie Spargo is understood to have hurt his throat in the qualifying final defeat.
The Demons and Lions will clash at the MCG on Friday night at 7:50pm (AEST), with the winner to face Geelong in a preliminary final.