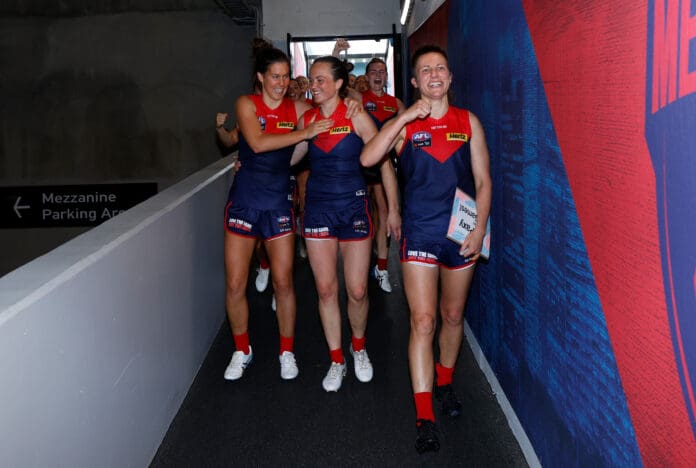 Melbourne star Libby Birch has detailed the problems that AFLW players face due to uncertain start dates, stating that the lack of consistency in scheduling is wreaking havoc on players lives.
Season seven of the AFLW competition started in August, with the announcement that it would do so coming just a month prior, leaving just a four month turnaround period between seasons.
With the finals series now firmly underway, the league is yet to give an indication of when season eight will be held, nor revealed key dates around trade periods.
In a piece published by The Age, Birch detailed the "uncertainty" players feel ahead of the upcoming seasons, urging the league to do better.
"The uncertainty that AFLW players face makes this time of year harder than it needs to be," Birch wrote.
"With the rushed connection between seasons six and seven, there was no time to formulate long-term strategies.
"This has left us in a position we are all too familiar with. Our contracts wind up at the end of the year, but there have been no decisions on list numbers for 2023, and no dates have been set for delisting and resigning periods.
"The competition had a sign and trade period after season six but does that mean we have another one post season seven? If so, that will be two player movement periods in the same year – which is a lot. Seventy-six players moved between the 2022 seasons. If that's the case again, that's 76 players who have no idea which club they will be at next season."
Birch's Demons got off to a hot start in week one of finals, beating Adelaide by 21 points, but the 24-year-old has one eye fixed on off-season issues, stating that the league doesn't have such scheduling issues in the men's game.
"As a competition and organisation, the AFLW needs to get better at this. The AFL can't continue to ask players to change their lives around at the drop of a hat. This year we did that, but now it's time to find consistency in our scheduling and overall year," she wrote.
"After the finals, there will be a substantial off-season – the perfect time to get this all sorted. It still grinds my bones that the men's competition dates are released firmly in advance and the women's game is always just left to make it up on the run."