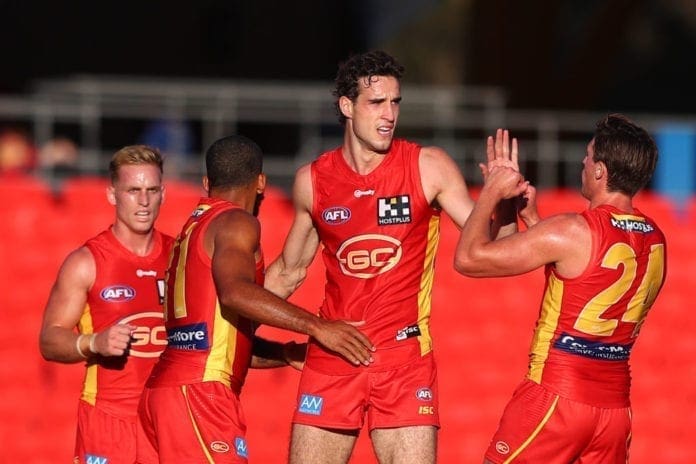 Premiership Hawk and ex-Demon Jordan Lewis is maintaining a positive and patient approach with the young Gold Coast Suns.
Lewis believes probes into Dew and the Suns may not be warranted due to their youth and inexperience.
"They currently sit 18th for experience [and] 18th for list age", the four-time premiership Hawk told SEN Breakfast.
"That in turn provides a lot of inconsistencies, whether it be throughout the game, throughout the week, effort…
"I'm glass half-full on Gold Coast.
"I understand their recent performances haven't been great, but I think if you look at the list at the moment, if they can keep themselves together, defensively they're sound which is good".
Lewis is of the opinion that the Suns need to add experienced players in their prime.
"They need to add to their list what you can't get. They need to add three or four experienced players around that 26-27 age bracket", Lewis explained.
"If they were able to get that, for me that catapults them into finals contention".
The Suns have managed in recent years to bring some ready-made players with the likes of Rory Atkins, Hugh Greenwood. Brandon Ellis and Alex Markov all coming up North.
"There's no club in the land that would give up a 26-27 year old A-grade player. That's what they need", he continued.
"They need someone experienced, but they need someone of good character, and someone that comes from a successful organisation".
"Unfortunately for Gold Coast, they're so hard to access and acquire".
"They will go through, I think, another period of a little bit of hurt, but retention of these players is so crucial, because it can't be fixed any other way", Lewis concluded.
"If they don't keep Lukosius, Rowell, Bowes and all these players, unfortunately they'll find themselves in the same position in three years' time".
Gold Coast's next challenge comes in the form of Carlton at Marvel Stadium on Saturday afternoon.