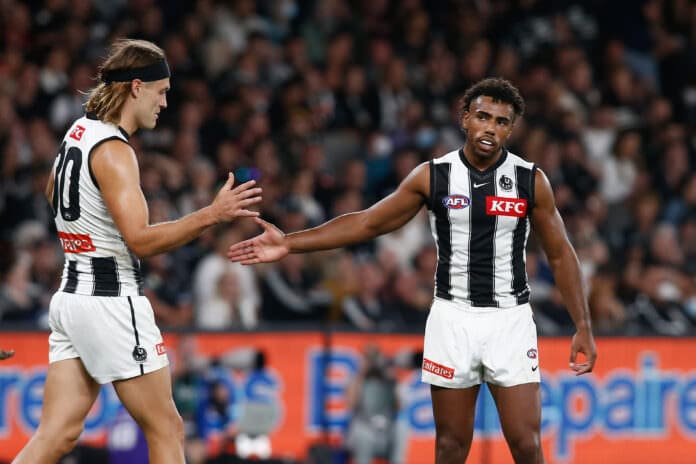 Collingwood coach Craig McRae has built a second family at Olympic Park this season, with the Magpies' young band of brothers bearing fruit with each passing week.
A semi-final win over Fremantle has placed the black and white army within one win of a grand final appearance, a feat unimaginable when McRae began steering the ship last September.
The nature of their 2022 campaign has been one of drama and delight, finding themselves among the AFL's top echelon of clubs this season through no easy road to success.
Saturday's 20-point margin was the Magpies' biggest win since Round 13, a run that included eight wins of 11 points or less.
An array of teaching techniques from McRae and his assistants Justin Leppitsch, Hayden Skipworth and Brendon Bolton throughout the course of this season have given the Magpies their best chance to close out matches.
Collingwood defender Isaac Quaynor heaped plenty of plaudits on Collingwood's coaching strikeforce for the manner in which they edge out their opponents, stating their tutelage, coupled with the leadership of steady veterans, has given their club the upper hand in 2022.
"We train it a lot," Quaynor said after the Fremantle win. "You've gotta tip your hat to the coaching staff.
"Fly, Leppa, Skip, Bolts, that whole cohort. They do a great job of schooling us, catering to all different ways of learning something whether it's visual, whether it's through writing it down, whether it's one-on-one, we just go over it again and again.
"We've been in a lot of close game positions. We've done it. So we're just learning every week.
"We've got some of the most experienced players in the competition. Someone like Pendles, [he's] unbelievable at what he does, so I try and pick his brain as much as I can with just about anything."
The club's newfound ways of learning under McRae aren't only seeing positive results on-field, with Quaynor and co. flourishing in the kinship that has been built over the past year.
Quaynor's passion to get to work alongside his teammates is greatly aided by McRae's presence behind the wheel, building a "family-like culture".
"It's been it's been fun. I've had a lot of fun," Quaynor said of the season so far.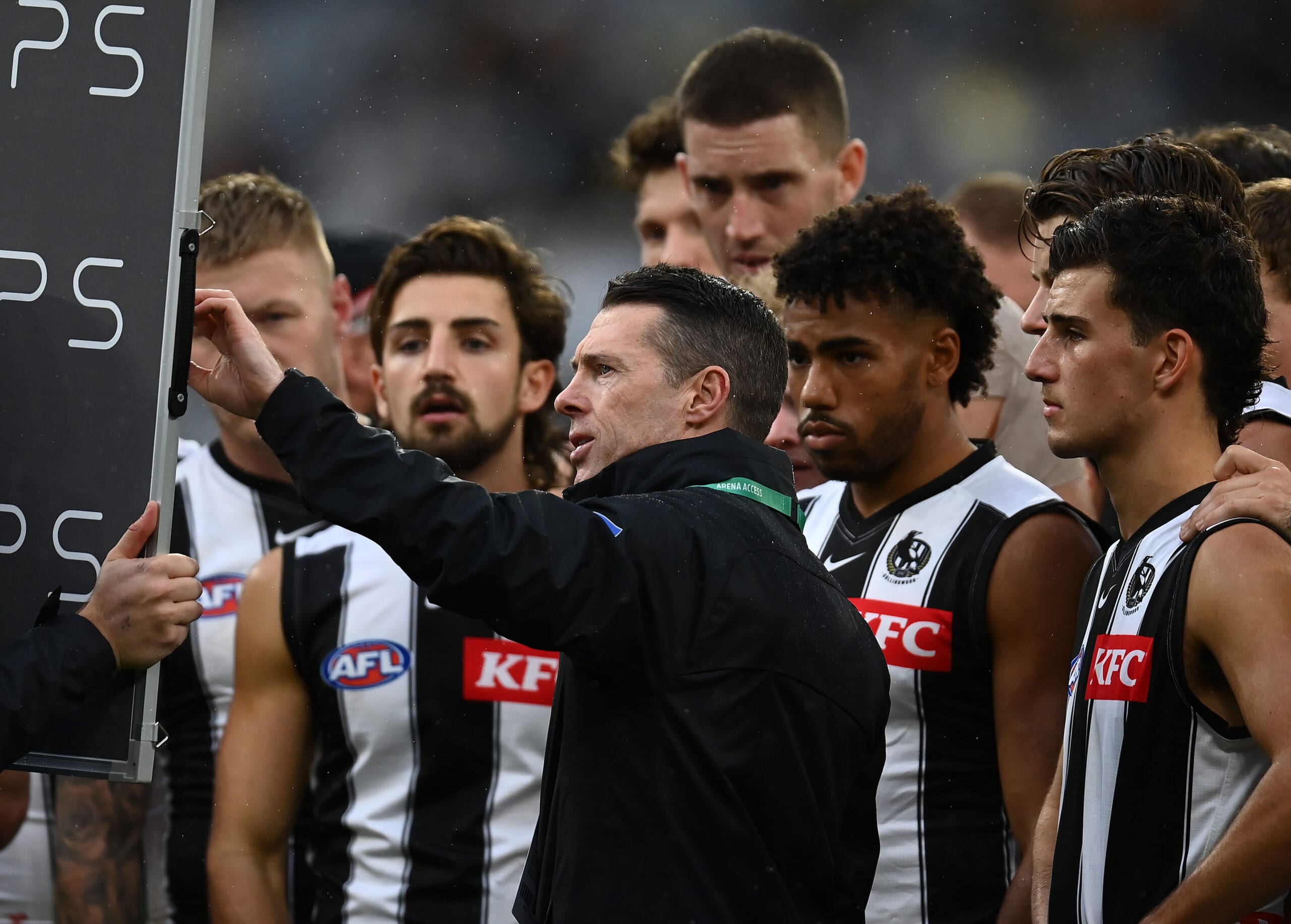 "The coaching staff, what they've been able to do, the culture they've been able to create. It sounds cliche but the family-like culture they've created... we're like brothers out there. We just love getting to work together and doing what we do.
"[Fly] steers the ship in a really calm way and when he needs to he can give a bit of a spray. That's important.
"I think it resonates with a lot of us players, obviously we have a really young group. So potentially that old-fashioned way of coaching doesn't resonate as much.
"He just gets the best out of all of us. He's done an unbelievable job in under 12 months."
The Magpies now turn their attention to Saturday's preliminary final matchup with Sydney, hoping to right the wrongs that saw their 11-game winning run reach its end in Round 22 at the SCG.
The Swans were able to handle the Magpies with ease, earning a 27-point victory and extending their own win streak, which currently sits at eight games.
The stage this weekend is set for Quaynor and Collingwood to return the favour in snapping Sydney's streak to book themselves a grand final berth in 2022.
How the game will be won will come down to pressure, according to Quaynor, who named the Swans as one of the competition's most high-octane defensive sides.
"That ground is very different to the MCG. So we've taken some learnings out of how we play the ground," he said.
"I really rate Sydney. I think they're a great team, great contested ball side and a great pressure side. [They're] similar to us in regards to pressure.
"It's always going to be a high-pressure game. I guess who can bring the pressure for longer (will win).
"We learnt a lot from the last time we played them. I think we go in with a lot of confidence because although we played far from our best, we took a lot out of it.
"Now we can go in with a bit more confidence and we're coming off a great win as well."
Thousands of Collingwood fans are anticipated to make the trip up to Moore Park, with the Magpies faithful looking to join their players in upsetting the Swans' party.
Their presence at Moore Park is one that will only buoy Quaynor's confidence this weekend, with the dashing Magpies expressing his love for their commitment to the club.
"We're so lucky, the Magpie army, it's unbelievable," Quaynor said of his side's supporters.
"We're very lucky to have the Magpie army behind us. It just gives us that extra little boost when we need it."