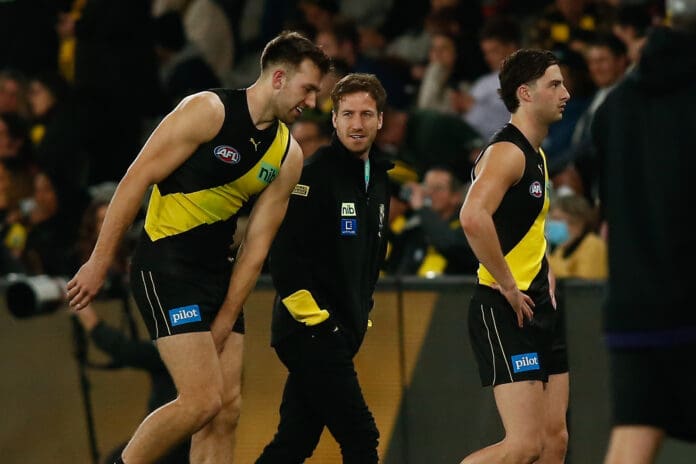 Three-time Richmond premiership star Kane Lambert has detailed the extent of the hip injury that forced him to hang up the boots, revealing that he has osteoarthritis and is facing a potential hip replacement.
Lambert announced his retirement on Monday after eight seasons and 135 games at Richmond. The 30-year-old has managed just seven games in 2022 due to his chronic hip injury, an injury in which Lambert says has had a detrimental impact on his life off-field too.
"I've got osteoarthritis, it's a lot of bone on bone in that hip so it's not great," Lambert told media following his retirement announcement.
"Day to day things like putting socks and shoes on, I don't tie my shoe laces, can't cut my toenails, getting in and out of cars is a challenge.
"It's probably more emotionally and mentally exhausting than physically.
"Hopefully there's alternative methods and medical advancements.
"But I think the long term at some point I will have the hip replaced."
Lambert was originally selected by the Tigers in the 2015 Rookie Draft after plying his trade in the VFL, having been overlooked in six previous drafts.
"My purpose has never been to prove anyone wrong, my purpose has been to prove people right. The people that cared for me and gave me their time and effort."

📹 Go inside today's team meeting for Kane Lambert's retirement announcement...

— Richmond FC 🐯 (@Richmond_FC) July 25, 2022
Debuting at the age of 23, Lambert quickly became a vital cog in the Richmond team and a hallmark of their premiership success in 2017, 2019 and 2020.
On his decision to retire, Lambert admitted that it has been in the works for a while, but he did everything he could to get back on the field.
"It's been a long time coming, to be fair," Lambert said.
"I approached this year a bit uncertain whether or not I would play again. The last three or four years have been challenging.
"Something felt different about my hip, the way it was, this year. I remember pre-season trying to train and watching the boys go about their business and thinking, 'I don't know if I can do that anymore'.
"I made a commitment with 'Dimma' that I was up for the fight and the challenge to do everything I possibly could. To explore all sorts of methods in order to get me out and play.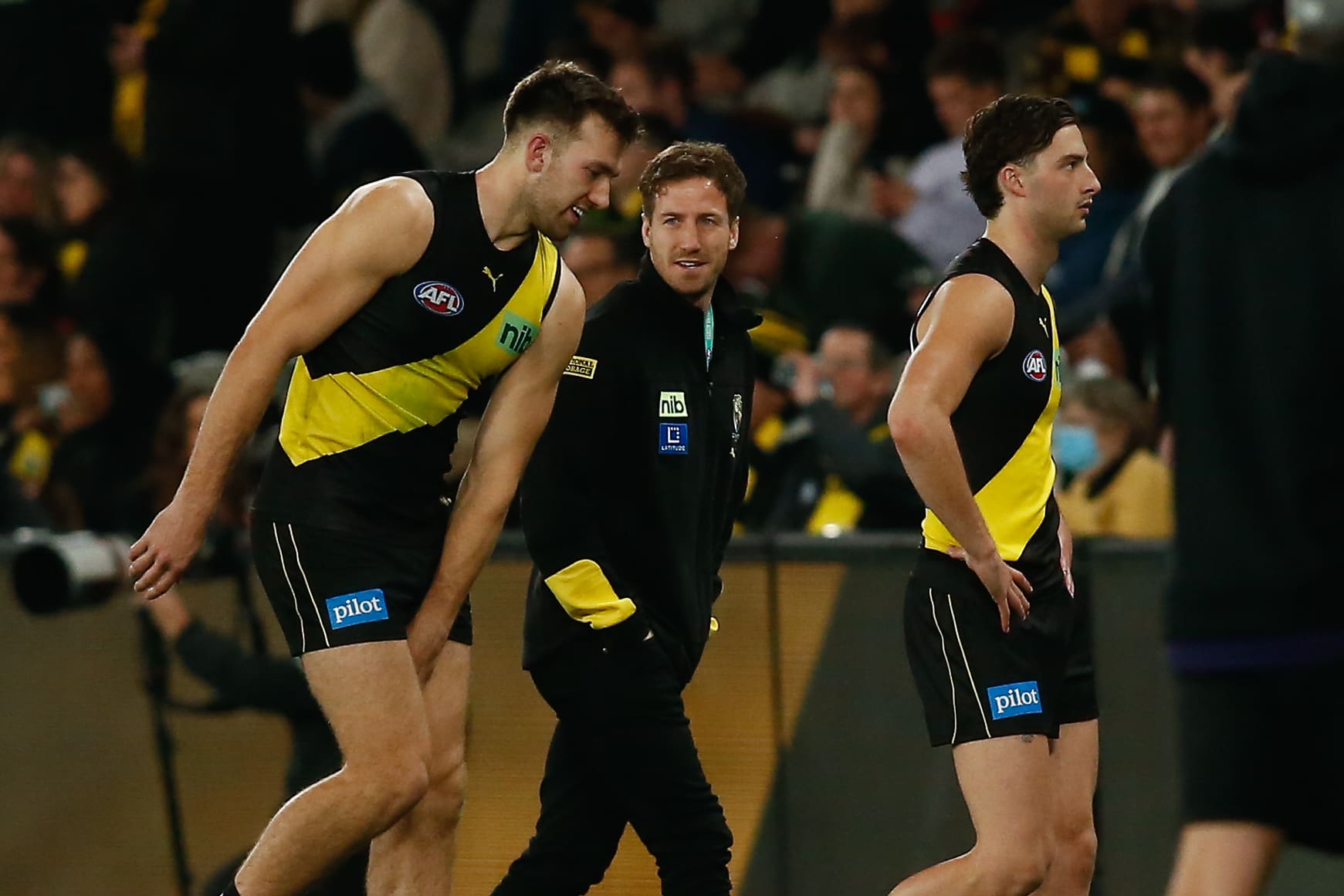 "I was only ever going to play if I felt that I could help and I could contribute. Now I've got to this point where I'm not at a level that I feel comfortable contributing at AFL level and I don't think it's fair to put myself out there with the boys not being able to help the way I'd like to.
"It's been a real challenge, but it's the right time for me and right time for the group.
"I feel comfortable and at peace that I've done all I can to perform and I'm no longer at that stage where I can."
While Lambert won't be pulling on the yellow and black jumper to join his team on the ground, he will remain at the Tigers in an off-field role for the remainder of the year.