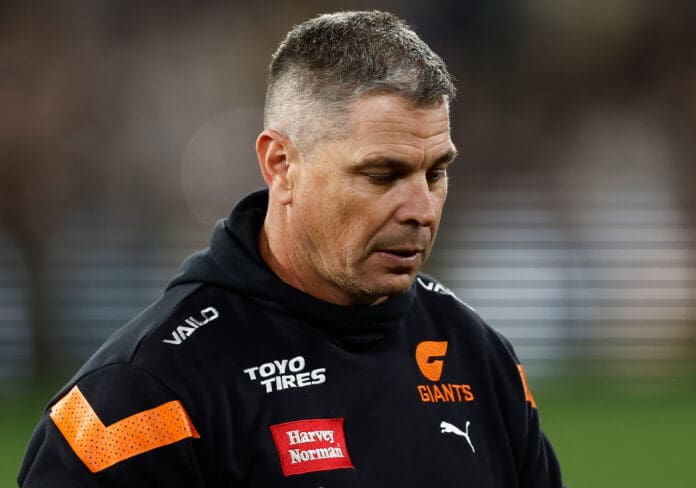 GWS senior coach Adam Kingsley has revealed a mysterious Head Injury Assessment ruled out one of his key contributors for the final minutes of Friday night's preliminary final.
Kingsley's Giants, who stormed into the penultimate weekend of the season after toppling St Kilda and Port Adelaide in respective do-or-die finals, fell just one point short of a Grand Final berth against the magical Magpies at the MCG.
However, while he commended Collingwood on the night -- labelling them "a pretty special group" -- he also rued the contentious absence of livewire forward Brent Daniels for the waning moments of the cliff-hanging contest.
According to Kingsley, who spoke after the game about the incident, Daniels was subject to a mandatory HIA after a mysterious incident Kingsley claimed "didn't warrant" assessment.
Addressing the media post-match on Friday evening, Kingsley revealed the surprise development that Daniels was subject to an HIA, noting his thorough disappointment.
"We were really disappointed to lose Brent Daniels to [an] HIA assessment that he passed comfortably in the last five minutes of the game," declared Kingsley.
"[It] hurt us around the ball, [lost] a little bit of leg speed, a bit of overlap run, so that's extremely disappointing."
The incident in question is believed to be a Nick Daicos tackle on Daniels.
Kingsley added he hadn't seen the incident but, from what he gathered, didn't feel the examination was a required measure, later adding the Giants would seek an explanation from the AFL regarding its necessity.
"I haven't seen the incident, but from what I'm led to believe it didn't warrant having to take him off the field to assess it," he said.
"Yeah, I'm sure we will (seek clarification), yep."
Aside from the slightly controversial circumstances surrounding Daniels, the Giants didn't have any major injury concerns from Friday's loss.
Rising defender Jack Buckley appeared to have sprained his ankle in the third term but was able to play out the game, while improved ruckman Kieren Briggs is understood to have carried a slight shoulder ailment but didn't require medical assessment throughout the night.
Veteran midfielder Callan Ward was GWS' tactical sub casualty, making way for Xavier O'Halloran in the fourth quarter for the purposes of leg speed, according to Kingsley.
While the Giants now turn their attention to list management, Kingsley detailed his pride in his playing group despite Friday's heartbreaking defeat.
"No doubt, [I'm] certainly very proud of the group, their development, the way they fight, the way they hang in every game, the way they play to the last minute, they're a really special group, and we need to make sure we maintain that level and improve on it (in the off-season)," said Kingsley.
"You look at every little [inside-50] entry, every little instance where you're defending, could we have done better? Could we have saved a goal? Could we have saved a point? Could we have saved territory?
"You go through all that and I'm sure our boys will replay all their moments in their heads for a long, long period of time, but that's the nature of prelim finals, and that's the nature of losing by a point."
The former Richmond assistant coach reflected on his first year in charge of the Giants, declaring they now know they "can compete with the best teams in the competition", but added they will narrow down "a few different things to improve" in the off-season.
"I think we've grown a fair bit, I think we've put ourselves in a position where we know that we can compete with the best teams in the competition, so that should give us great confidence," Kingsley continued.
"But the reality is, next season it starts all again, and we're going to have to have a big summer of working on a few different things to improve, and try and get past this prelim hump."
Kingsley thrived in his first season in charge of GWS, managing a 13-10 home-and-away record while boasting the league's best away-game win rate, on top of winning two finals.
Collingwood will play the winner of Saturday's Brisbane-Carlton preliminary final in next weekend's Grand Final.