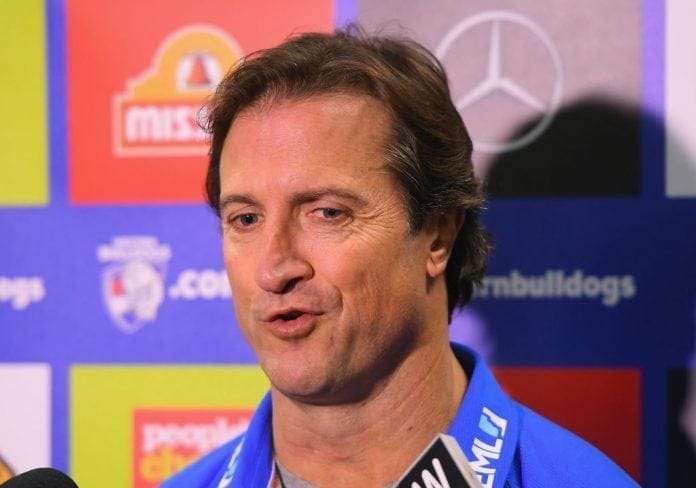 Following his team's drought-breaking premiership in 2016, Western Bulldogs coach Luke Beveridge believes the AFL reacted too swiftly to complaints about the manner in which his side disposed of the ball.
Speaking to the media on Tuesday morning at the Whitten Oval, Beveridge explained that this 'knee-jerk' reaction has created confusion for umpires when it comes to adjudicating the already ambiguous holding the ball rule.
"Unfortunately, it became blurry after '16, when a couple of clubs whinged about us, and they tried to play more free-kicks, and then by Round 3, they tried to go back to what it was." the premiership coach said.
"It's just an example of flinching on the run."
"Let's just get back to prior opportunity and incorrect disposal – just give the umpires a chance."
On the holding the ball rule - "They (the AFL) have been flinching on the run...let's just get back to keeping it simple." @zerohanger

— Ed Carmine (@ed_carmine) May 18, 2021
Although the changes in interpretation have led to some dubious decision making, Beveridge was still willing to empathize with the game's whistle blowers.
"It's still going to be hard. The game has probably never been quicker, so sometimes, it is hard to work out whether a player has had prior opportunity - it's a really fine line."
"I get why the umpires find it hard in certain circumstances, but just keep it simple for them and it will give them every chance."
Beveridge's comments come just days after St Kilda coach Brett Ratten was left mulling the importance of tackling, after his side was rewarded on just three occasions despite laying 87 against Geelong in Round 9.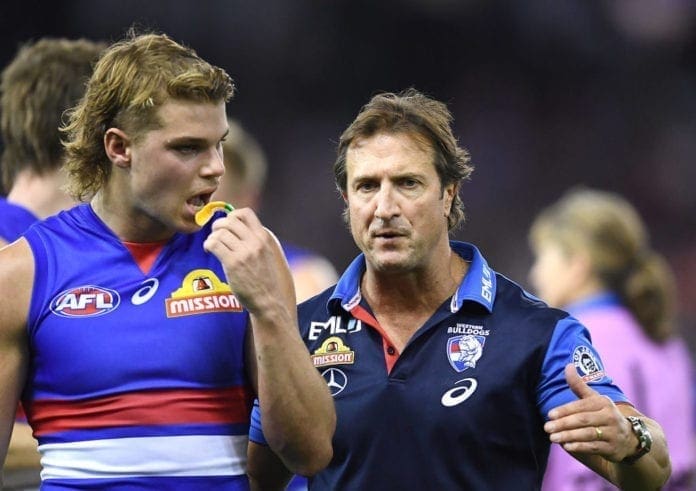 With the 8-1 Bulldogs coming off a bruising win against Port Adelaide, in a game that the 50-year-old described as "holistic", Beveridge conceded that he would have to alter his 23-man squad before Saturday night's clash against the Saints.
"We're asking new things and progressive things of our players, as we will need to make a couple of changes this week, with Easton [Wood] going out of the side," Beveridge said.
The head-coach said that due to his similarities to Wood, and his availability, former Docker Hayden Crozier was leading the pack to replace the former skipper, who is set to miss at least a month with another hamstring set back.
"'Croze' and Easton play a similar role," Beveridge explained.
"As 'Croze' was the sub on the weekend, he probably just takes up that spot. That's a pretty easy 'like for like'."
Whilst unwilling to concretely confirm Tim English's return from concussion, Beveridge was of the belief that the 23-year-old would likely form a rucking partnership with Jordon Sweet on Saturday night.
When asked whether he would run with a Jordan Sweet/Tim English rucking combination - "Yeah, probably." @zerohanger

— Ed Carmine (@ed_carmine) May 18, 2021
"He [English] is definitely feeling better."
"We want him to be feeling good within himself, and coming to us saying 'Absolutely, I'm ready to go'. Hopefully, that's Thursday, but if not, we'll keep him out until he is totally ready."
Beveridge was also willing to "wait and see" how Lachie Hunter's hand injury progressed throughout the week before making a call on his inclusion.
Despite the news that English had shaken off the worst of his concussion symptoms, the same could not be said for the Pup's prize pick at last year's draft, Jamarra Ugle-Hagen.
"He's right on the edge of the 12-day [waiting period], so, in our conservative approach to concussion, he'll miss again," Beveridge said.
"He seems well within himself, but technically, he's not eligible."
Bevo explained that the club would be taking a conservative approach with number 1 pick, Jamarra Ugle-Hagan, and that he won't play VFL this week as he recovers from concussion. @zerohanger

— Ed Carmine (@ed_carmine) May 18, 2021
With his Bulldogs set to face Ratten's Saints for the first time since last year's Elimination Final at the Gabba, Beveridge spoke highly of the the side that ended the Dog's 2020 campaign.
"I was impressed with the way they started the Cats game," he said.
"We'll be expecting that aspect of their intensity and vigor at the start of our game as well."
"The Saints have challenged us with their height historically, and we would imagine with Marshall [St Kilda Ruckman, Rowan Marshall] going down with his injury that maybe someone like Carlisle [Jake] will come in as that second ruck.
"They've had a really good combination with their aerial advantage and their fleet of foot small-forwards and half-back flankers who have really challenged us."
The second placed Bulldogs are set to do battle with the 11th seeded Saints on Saturday night at Marvel Stadium.