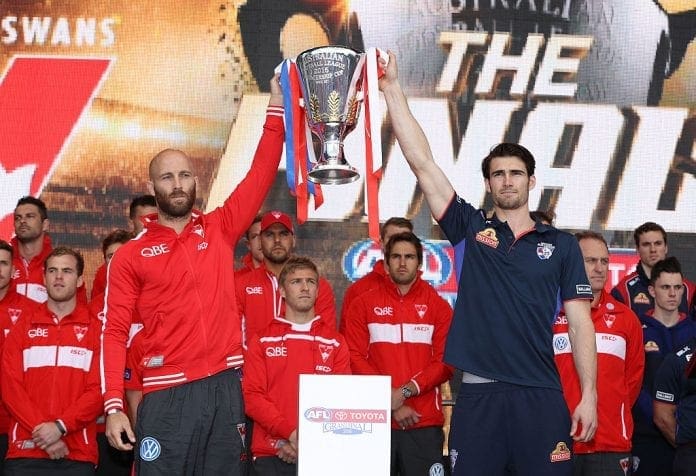 The AFL have confirmed the finals series will start on a Thursday night for the second straight year.
After the Eagles hosted the Bulldogs in Perth in an elimination final last season, the League will stick with the same structure, with finals on Thursday night, Friday night, Saturday afternoon and Saturday night.
Acting AFL football operations boss Andrew Dillon said a Thursday night final will take place regardless of the ladder positions, and there would be no Sunday final for the second year in a row.
"(The first final) will certainly be on a Thursday night, whether it's interstate or not will depend on how round 23 plays out," Dillon told SEN radio on Tuesday morning.
"We'll probably be still waiting until the (result of the) West Coast-Adelaide twilight game on Sunday to know exactly what the final make-up of the eight is.
"But it will be Thursday night, Friday night, and then we'll have two games on the Saturday, one during the day and one at night."
Last season's elimination final was seen by 1.564 million people of free-to-air television, with over 400,000 also viewing on Fox Footy.
Dillon was also asked about Geelong's chances of playing a home final at Simonds Stadium, and said there were still a lot of decisions to be made.
"We haven't got a final view on that, and when we do the scheduling for the finals we'll take into account a number of factors, the (crowd size), broadcasters, venues, contractual obligations and days breaks (for participating clubs)," Dillon said.
"There's still a lot permutations and combinations, and they won't be known until after Sunday."
Given there is a pre-finals bye after round 23, the first week of the finals will run from September 7-9.