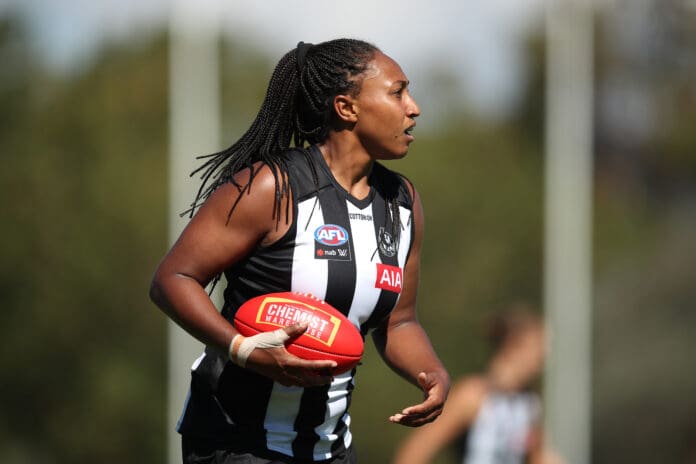 Magpies forward Sabrina Frederick has voiced her opinion on the AFLW's proposed return in August.
The Collingwood star took to Instagram to slam the proposed idea that pre-season for all AFLW teams would start as soon as next month, explaining how the idea feels rushed and is lacking consideration for things such as the National Draft or trade period.
"It's absolutely mental that AFLW pre-season is supposedly starting next month," Frederick wrote.
"This is a part-time competition so that means everyone involved not just the players have other things to factor in and consider. Not to mention trade, sign and draft has to happen before then.
"I believe for speaking up for what's right."
Frederick isn't the first AFLW player to speak out over their disproval of the rushed start, with Lion Jess Wuetschner already voicing her opinion on the issue.
Wueschner shared a similar opinion, stating that the players need a break due to the struggles brought upon the league due to COVID, and calling for the start to be moved to later in the year instead.
The premiership Lion also voiced her fears over the idea that many players may opt not to play and the league will lose valuable assets if the rushed plan continues.
"I can all but guarantee if the season is to start in August, you will lose current players and potential draftees - who themselves are going to be completing their last year of school, in the middle of exams, enjoying end-of-year celebrations and graduations" Wuetschner wrote.
"These players are some of the best and most exciting in the competition - do we want to risk losing them if the AFL decides on an August 2022 start?"
While the AFL are yet to confirm season dates for the seventh AFLW season, it is anticipated the coming campaign will begin in a matter of months.
A player CBA is yet to be agreed upon as the decision looms, also leading to the delay of a designated trade window.