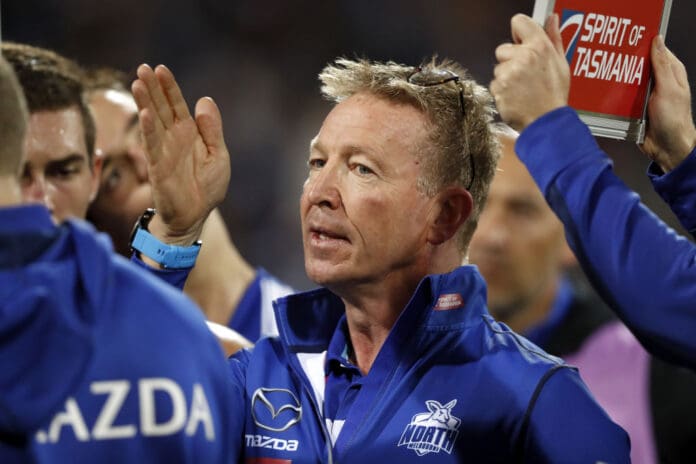 North Melbourne coach David Noble isn't concerned about his position despite a review being conducted into the club's football operations.
The review, spearheaded by Geoff Walsh, comes after a dismal start to the season for the Kangaroos has them sitting in last position on the ladder with just one win.
When asked about the review into the club's football department while fronting the media on Wednesday, Noble remained adamant that he wouldn't seek assurances about his position, but conceded changes would be made after the review.
"No. I don't believe I need any to be honest with you," Noble said.
"I'm really comfortable, I've got ongoing conversations with the board, spoken to Sonja (Hood, president), meet with Ben (Amarfio, CEO) regularly.
"I'm not comfortable with where we're at from a footy team perspective, just to clear that up, but I've said all along, we've got a clear direction that we want to take, we understand that rebuilds are really difficult.
"You do have those periods where it ebbs and flows. At the moment, it's ebbing, it's not flowing very well, and they're difficult periods so you just need to be united and stay together and stay to the plan."
Trying to avoid an 11th consecutive loss, the Kangaroos will head on a road trip to Geelong to face the Cats on Saturday night.
North remain on just one win on the bottom of the table heading into Round 16, with a percentage of just 52.2%.