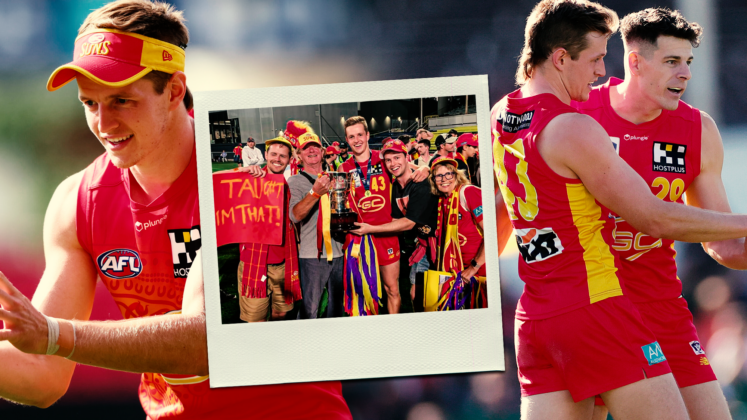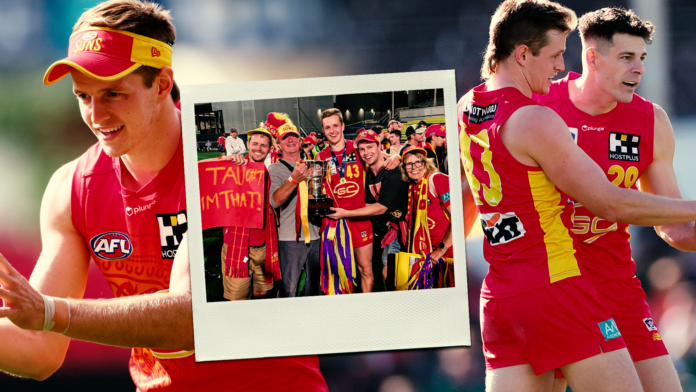 Brodie McLaughlin was a man in demand on Sunday afternoon.
But it wasn't with his teammates or the opposition during Gold Coast's VFL Grand Final win, or with media following his 'Frosty' Miller Medal-clinching campaign that had him so coveted, but his close friends and family as the confetti rained down on Princes Park shortly after the Suns raised the premiership cup.
McLaughlin was quickly swarmed by those close to him who had each played a role in his journey, with each hug, photo and memory adding to a year like no other.
The 25-year-old would've still been teaching at university had the opportunity from the Suns never come to be, with the journeyman likely still pulling the boots on in the VFL, but for Frankston instead.
An invite to Gold Coast's pre-season program over the summer followed a strong year with the Dolphins, with McLaughlin having "grabbed it with two hands" after packing his bags and heading north with his partner.
February would see the De La Salle junior earn a spot on the Suns' list for 2023, with McLaughlin a step closer to a dream he never thought was possible.
The electrifying forward would start his campaign in the red and gold through the VFL and would have 15 goals to his name from his first four appearances.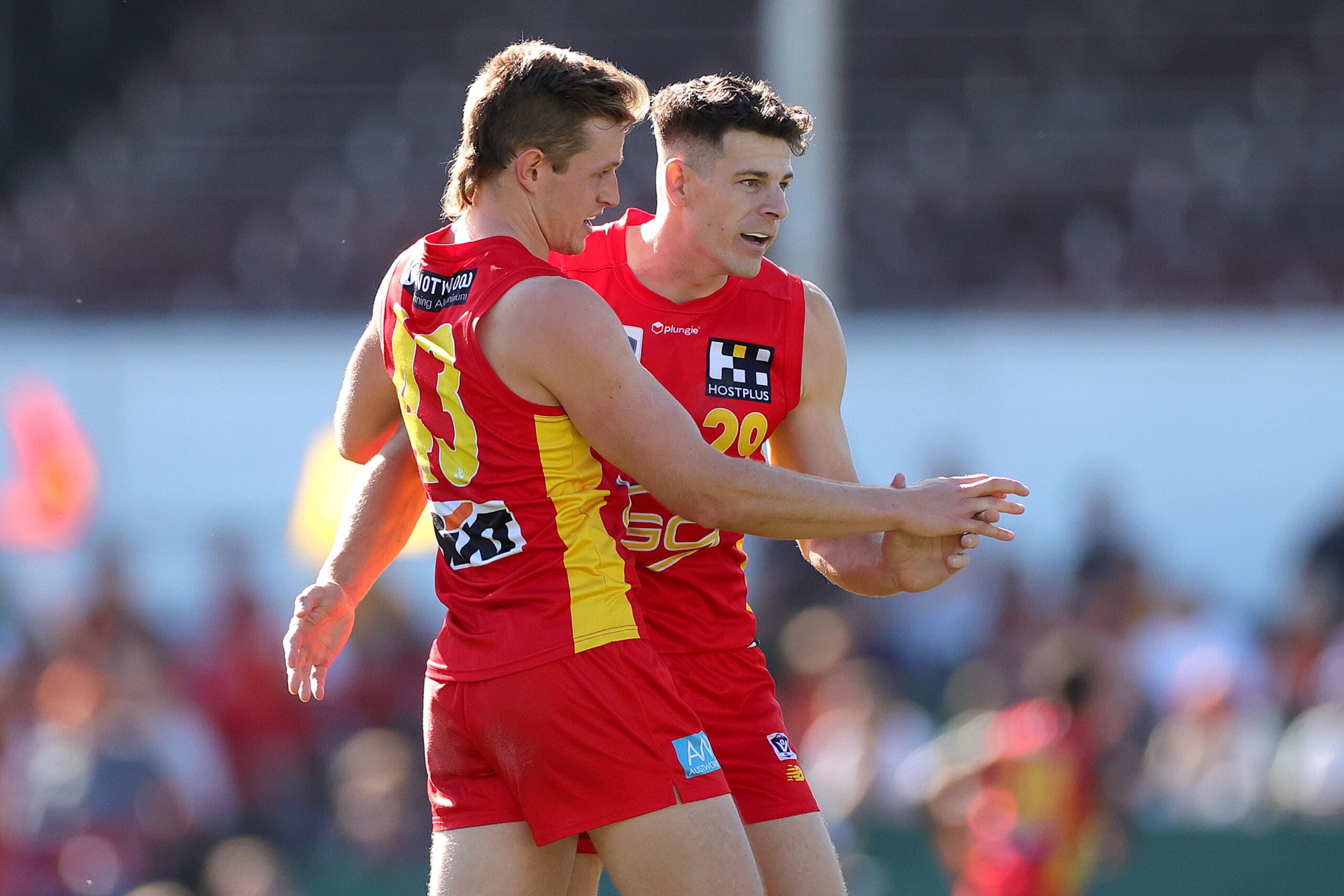 That vein of form would only continue throughout 2023 as McLaughlin and teammate Chris Burgess split the honour as the competition's leading goalkicker on 51 goals each.
While an AFL debut wouldn't come to be, despite his dominant efforts at the state league level, McLaughlin's first campaign in Queensland would culminate over the weekend through a 19-point win over Werribee.
The 193cm forward booted three goals to help steer the Suns to their first piece of silverware, but it would be in the post-match celebrations where the McLaughlin would be his busiest.
After stepping off the dais, family and friends flocked to McLaughlin to celebrate the achievement, one which he believes is a result of their support.
"Seeing all my friends and family here, it's been such a long journey to get here and I can't put into words how happy I am. It doesn't feel real yet, it hasn't sunk in," McLaughlin told Zero Hanger after the game.
"Friends, family, ex-teammates and people who have just been there across the journey from Bulleen, Templestowe, Frankston, North Melbourne, people from everywhere in town.
"It was actually quite special to have so many people from so many different parts of the journey make the trip down. It's pretty special."
A whirlwind 12 months has seen McLaughlin not only land on an AFL list but thrive at his new club, being one of four Suns players to be recognised in the VFL Team of the Year as the competition's tied premier sharpshooter.
Having hoped to repay the Suns the second he stepped foot through the doors at Carrara, McLaughlin said the season was one he took great pride in.
"If you had told me 12 months ago I'd be on an AFL list, just won the VFL Grand Final and had a pretty good year, I would tell you you're dreaming," he said.
"I'm speechless. I'm eternally grateful to the Suns for giving me this opportunity. I feel like I've repaid them and grabbed it with two hands. It's been a special year.
"We've got a great group of guys in the twos and obviously I would have loved to have played a bit of AFL football, but we've got a pretty special team here. It's just as special here with them winning the flag."
While an AFL debut didn't come to be, the desire to represent his family at the elite level is what will drive McLaughlin to become "a great AFL forward" as he continues to set himself tall expectations.
And with his spot on Gold Coast's list yet to be cemented for 2024, with St Kilda among the clubs linked to the mature-aged recruit, McLaughlin said he's prepared to prove his case to anyone, but holds the hope he can remain a Suns player.
"I'd probably be on the couch, or working," McLaughlin said of what his Sunday might've entailed had the Suns' invite never come to be.
"I was teaching at university before I got up here. It's crazy thinking about my life and how it was, living in Melbourne and to move up with my partner Tash, who has been awesome.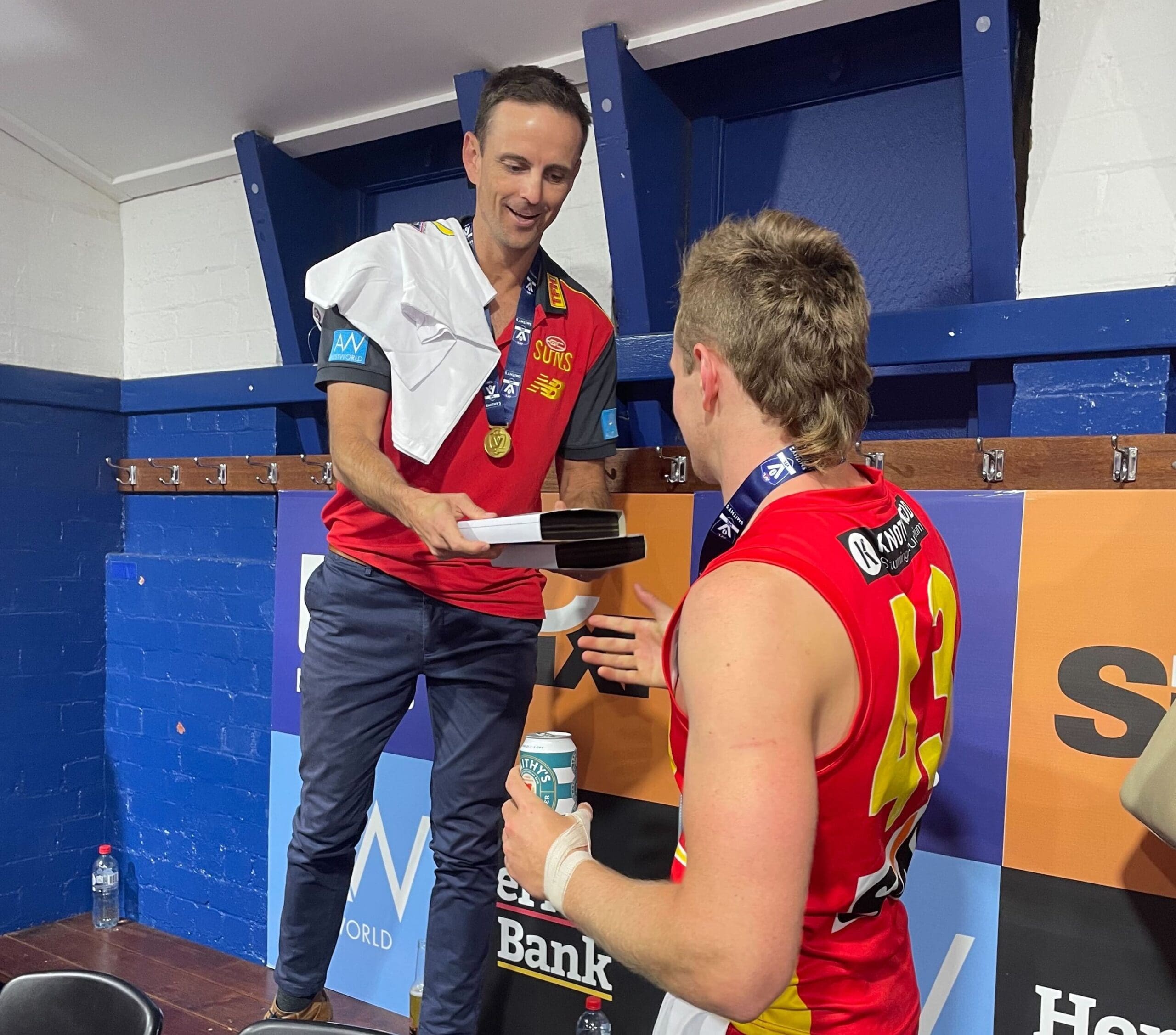 "Living up on the Gold Coast, getting paid to play footy full-time, it's what you dream about. So however long that lasts for I'm, I'm so thankful for the journey and now I've got no regrets.
"I'm not finished by any means. I've got so much more I can give, so much more I can grow and I know I can become a great AFL forward. I'm setting my aspirations pretty high.
"I'll take a week off and get back into it I reckon and see if I can prove my case to hopefully play some AFL football next year.
"I'll play footy anywhere to be honest. It's been pretty special playing up here and we'll have those conversations when they come but I'm just thinking about the now.
"Wherever I am next year, whether it's with the Suns or someone else, I'd love it to be up here, it'd be awesome. I know I'm gonna give 100% wherever I am."